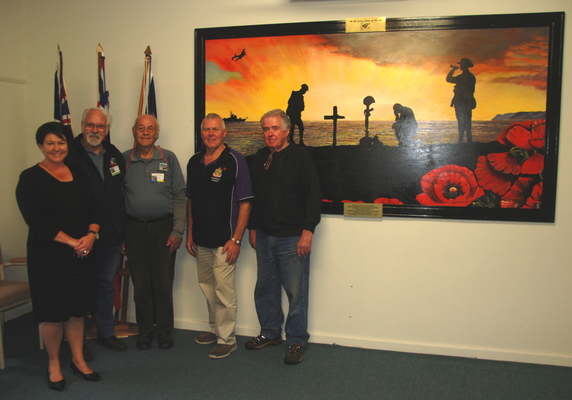 By Bonny Burrows
Male offenders working towards rehabilitation within the community have gifted the Pakenham RSL an Anzac themed artwork.
Finished just in time for Remembrance Day, the artwork was donated to the RSL on 8 November after months of hard work.
The 2m x 1m artwork was completed by seven men working with Living Learning Pakenham artist Rob Matheson as part of a unique program that has been established as a partnership through the learning centre and the Department of Justice South East Metro region's community work team.
Mr Matheson admitted he didn't quite know what to expect when taking on the challenge of teaching art to the men, however he was pleasantly surprised.
"What impressed me most was the participants' willingness to have a go," Mr Matheson said.
"My passion is to create a positive outcome and win-win for everyone and I think we've accomplished that."
One participant, who cannot be identified, said the project was successful as "it actually meant something to us".
The men themselves came up with the idea for the painting with the intention of handing it over to the RSL in recognition of our returned servicemen and women.
"It wasn't us doing mundane tasks," the participant said.
"Rob drives a believe that we should have input in what we create. For us, it was about giving back to the community."
The artwork was the fourth the participants have created this year under the program.
The painting features the images of three soldiers from three different eras of war – World War I, World War II and modern day.
It also includes a WWII Lancaster Bomber plane in the sky, a modern war ship in the sea and red poppies in the foreground.
"We wanted it to encompass remembrance of all conflicts," the participant said.
He said the men were proud of the final product, especially as they began with no idea as to what it would be they would create.
"It's something we're very proud of and proud of the RSL to have hanging in its building," the participant said.
Pakenham RSL president Gary Elliott said the painting would take pride of place in the RSL.
"It's an excellent piece of artwork, and one I'm sure will travel with the Pakenham RSL wherever it may be," Mr Elliott said.
A fifth piece of art created by the men is almost complete and ready for donation to the Pakenham Fire Brigade.
The artwork's frame was created by the Cardinia Men's Shed.