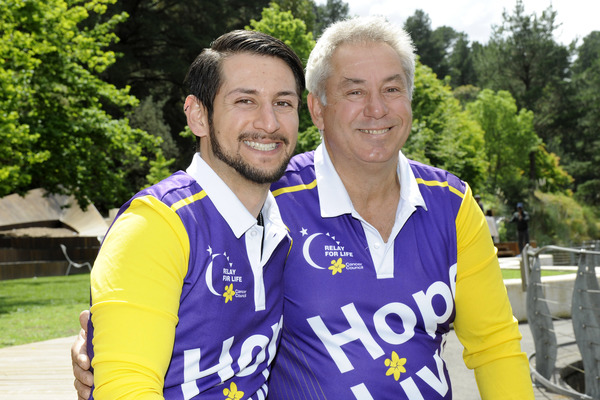 By Cam Lucadou-Wells
It takes a lot to stop inspirational 26-year-old cancer survivor Daniel Margariti in his tracks.
After raising more than $7000 in 2017, Daniel will be back for more laps in the Casey Relay For Life event in March.
Since he was 18, the Dandenong resident has beaten two serious attack of testicular cancer, serious infections and had large tumours removed from stomach, spine and liver.
Far from bowed, Daniel has in the meantime finished a business and commerce course at Monash University, volunteered at a Tanzanian orphanage and at the charity Riding Develops Abilities.
He's also founded and led the Young Adult Cancer Support (YACS) group, and starting to mentor foster-care children through a Pyjama Foundation program.
It should be little surprise that Daniel walked 13 kilometres over the last two-day Relay for Life. Despite just having 49 per cent lung capacity.
He remembers fondly the support of so many including his family and friends.
His 2017 team directed the funds to Monash University research into using the body's "natural killer cells" to detect and destroy cancer cells.
"Hopefully one day, the natural killer cells can defend the body without the need for chemo.
"Chemo is such a hard thing – it kills your body slowly while hopefully killing the cancer before it kills you.
"But it's the only thing we have at this stage."
Daniel is no stranger to chemo treatment. But he also prospered from a stem-cell transplant trial as a last resort option in 2015 when his chemo was no longer effective.
In the past few months, he's been recovering from surgery to reattach his herniated abdomen muscles. There are also the mental battles of post-traumatic stress from the whole eight-year ordeal.
"I'm not sure what life has going forward for me.
"I've spent so much time in hospital, I'm just appreciating the chance to live my life.
"To be able to do things for myself, to go out to the beach and go for a big drive means a lot for me."
His YACS group – made up of 43 young members around Australia – has been a key part of his life for the past year.
"The Cancer Council asked me if I wanted to step up and create a support group.
"I was really in need of meeting other young people – there were zero around while I was having treatment in hospital.
"Friends and family are amazing, but people can't understand the perspective of someone unless they've been through it."
Daniel connected with other young people with the same health battles. They shared a similar view on life and giving.
Most are volunteering for charity, focused on helping others through social work, nursing and education.
"My psychologist said you're never going to have a justification for what has happened but for me, this gives me some meaning.
"To get a negative and make it a positive."
At the same time, Daniel's pitching in to promote Relay For Life in the hope of attracting 100 teams. The Casey event is close to raising $4 million during its 10-year history.
He's particularly keen on involving young people and school groups, and spreading awareness of teenage cancers.
The event's theme this year is 'Community Coming Together' to fight cancer, remember and celebrate life.
For details and to register, go to the Facebook page of Casey Relay For Life.