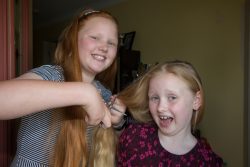 By Kyra Gillespie
A passionate nine-year-old is giving back to "sick kids" this Christmas by giving a very special and unique gift that has been years in the making.
Abigael Donoghue is no ordinary Grade 3 student.
When she turned four years old, her mum Christine said she set her mind to growing her hair out to make wigs for children.
When asked why she is doing it, she merely shrugs her shoulders.
"We've never gotten to the bottom of it, she's just always wanted to donate her hair to sick kids", proud mother Christine Donoghue said.
"No-one in our immediate family has been sick, nor has she got sick relatives.
"She just has a heart of gold and wants to help others."
Abigael has had setbacks of her own, suffering mild scoliosis and coeliac disease.
"Her spine is shaped like an 'S', which means that she can't always do what the other kids can.
"But she keeps powering through, saying that there's kids out there who are worse off than she is."
Now that she's nine, Abigael has decided it's the perfect time to make the cut.
Her long strawberry-blonde hair currently measures over 80 centimetres in length, of which 35 centimetres will be cut off on Sunday 26 November, at Premiere Hair in Beaconsfield.
The hair will be donated to Hair With Heart, a children's charity that provides wigs to kids who have lost their hair due to alopecia or another medical condition such as cancer.
Abigael thinks the wigs are important "so people can't pick on them".
"I just want to make them happy," she said.
In the lead-up to the big snip, Abigael is also raising money for the Royal Children's Hospital through a Go Fund Me page.
So far, she has raised $500 of her $2000 goal.
To help her along, her orthodontist Dr Karim from Straight Smiles has pledged to match whatever she raises.
To support a little girl's big initiative, head to the Go Fund Me website and search for: "Abigael's donating her hair".