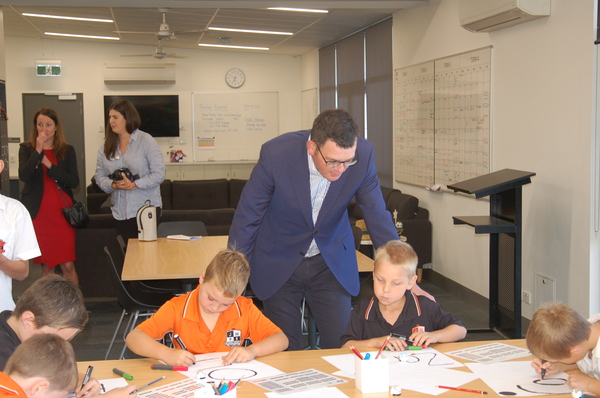 By Brendan Rees
A new secondary school will be built in Pakenham as the Victorian Government plans to spend nearly $240 million buying land for 14 new schools.
Premier Daniel Andrews and Minister for Education James Merlino visited John Henry Primary School in Pakenham to announce the $236.8 million commitment on Tuesday, 13 March.
A site next door to John Henry Primary School on Henry Road will be purchased to build a new secondary school.
Land purchases have yet to be made and funding for each of the building sites will be announced in the May budget and later in the year.
Mr Andrews said: "It takes two years to plan, and then build and have ready to open a school."
"We're giving local families the certainty they need that their kids will be able to attend a great local school, close to home."
The announcement was a welcomed relief for parents Elaina Haig, Pamela Fairbank and Dee Wittke of John Henry Primary School who petitioned for a new secondary school in Pakenham a month ago with more than 500 signatures.
"The three of us got together and started a Change.org page called 'Build a new high school in Pakenham now,' " said Ms Wittke.
"I've got a son in Grade Four and if they can have it up and running by 2021 I'll be the happiest parent on the planet," Ms Wittke said.
During his visit to John Henry Primary School, Mr Andrews also announced an additional $20,000 for the school's robotic courses.
Labor Party candidate for Bass Jordan Crugnale said the building project was an "absolute significant investment."
"This is about future planning. This is great outcome for the local community," she said.
Minister for Education James Merlino said the announcement was the biggest school building program seen in Victoria.
"Ten new schools opened last year, 11 new schools this year, nine new schools next year, more new schools in 2020, and now we're announcing a further 14 school sites right across Victoria," he said.
Victorian Opposition leader Matthew Guy said had the Government not scrapped the East West Link project at a cost of $1.3 billion, 40 news schools and 40 new police stations could've been purchased.
"If it was just schools, 77 new schools in our growth areas could've been built," he said.
John Henry Primary School Principal Tanya Roberts said many parents were excited about a new secondary school in Pakenham.
"Children should go to their local schools and they become involved in their local community and then they can walk and ride to school," she said.
The Government will talk with communities at the end of March about what they aspire from their new schools. Details available at the Victoria School Building Authority website: www.schoolbuildings.vic.gov.au.