As a grandparent and the son of an alcoholic parent, I become more and more concerned about the pressure that teenagers come under, especially...
This idea of continuing with the construction of Bunjil Place is nothing but a quick rush for getting new offices for the council. The survey...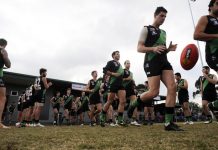 THE moment of expectation as Doveton runs out onto Robinson Reserve. 141789 Picture: STEWART CHAMBERS
RE: Same-sex marriage. People are reluctant to share their opinions, (sans Cr Crestani) for fear of being labelled a bigot. I am tired of being labelled...
SURELY as a nation we need to address the incredibly bad performance of Nick Kyrgios at Wimbledon. He made me feel ashamed to be...
CONGRATULATIONS to Councillor Rosalie Crestani (News, 2 July) for her stand against 'same-sex marriage'. Not many people are prepared, like her, to speak out...
WITH reference to the letter ("Need for Bunjil", News, 2 July), we refute the statements of the mayor, Cr Mick Morland. 1. This Precinct is...
I REFER to the letter "Bogan Screen Diet" (Berwick News, 2 July). I also agree with Adrian Karpish re: lack of quality movies at...
IT doesn't matter how Cr Mick Morland dresses up the culture centre – Bunjil. The City of Casey is spending ratepayers' money – not...
RE: "Rainbow of Pain" (News, 2 July), Cr Crestani's stand against same-sex marriage is to be applauded, she is not a bigot, she is...
THANKS to Casey mayor Mick Morland for his comments and letter about Bunjil Place (News, 2 July). Thanks also to Ms Florin Bordel for her...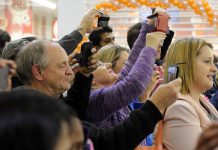 THE opening of a new Woolworths supermarket, Clyde. Picture: STEWART CHAMBERS