By sports editor Russell Bennett
Just after 2pm on Saturday, as Ben Tivendale emerged from the home rooms at Starling Road, he was hit with the unavoidable truth – of just what he means to the Officer football community.
The iconic, long-sleeved number 11 guernsey was the last to depart the rooms.
Tivendale's team mates, and even his Doveton opponents on the day, were already forming a guard of honour in front of a more than seven metre-wide banner that celebrated his record-breaking 330th senior appearance for his beloved Roos.
It wasn't until just minutes before Tivendale ran out on to the ground that he was finally told what the club had in store to honour him.
Saturday wasn't even technically the day he broke the club's games record. That happened a little earlier in the season when he passed Mick Moylan's 324 game mark – having already passed another pair of club legends prior, Kable Dowsett (323) and Rob Young (312).
This all points to the sort of person Tivendale truly is – avoiding the fanfare and adulation because he's club-first, with the blue and white coursing through his veins.
He's a player from a bygone era. In fact, he's one who has bridged a number of different playing eras – from his days in the old West Gippsland competition, making his senior debut in 1999; winning the 2002 senior premiership with ROC (as the senior club was formerly known); and winning seven senior best and fairest awards; to being awarded life membership of the club, and playing a pivotal role in leading the current charge in the new AFL Outer East competition.
Current Officer senior captain Matthew Clarke spoke about just how much he idolises Tivendale.
"He was my captain in the early days, playing senior football," Clarke explained.
"When I joined the club he was a player everyone looked up to, and nothing has really changed. He has an aura about him and is the ultimate club man. He's passionate, committed, and he makes the place enjoyable for everyone else.
"He's without question the best footballer I've played with, and it's an honour to call him a great mate.
"And when I eventually hang up the boots, I can't wait to stand on the sidelines and watch Tiv run around. The man doesn't age!"
So, on Saturday, his club mates simply weren't going to let him reach 330 games – 326 of those in the seniors – without letting him know what he meant to them.
Fittingly, it was Moylan who was there to greet Tivendale as he was about to run through the banner with his kids Harry and Tilly.
The genuinely warm embrace that the two club champions shared showed everything.
"Ben is obviously a great footballer, but he's also a fantastic guy to have around the football club for so long," Moylan explained.
"Some might not realise that he played a few years ago for Springvale as well (in the VFL), but returned to the club. It's a real testament to his durability and professionalism.
"Watching him play, you can see there's tons of football left in him and I doubt we will ever see this record repeated."
Tivendale's current senior coach, Doug Koop, has also coached against him a number of times over the years. He explained how he holds him in an even higher esteem, having coached him, but he always knew about the quality of the footballer.
"Some players you don't realise just how good they are, until you've coached them," Koop said.
"(But) Tiv wasn't one of these blokes. We always had to make sure we had someone to cover him. Plenty of times, despite this unwanted opposition attention, Tiv was still the bloke leading the charge – often against the odds.
"Now that I'm coaching him, I can honestly say that he's the quintessential player who just has a happy knack for winning the ball and using it well, and hopefully he's got plenty of footy left in him yet."
Frank Wyatt is a life member at Starling Road, and is a past president of the club. He paid tribute to Tivendale, both as a footballer, and a bloke.
"Ben Tivendale is a special kind of person," he said.
"He's an Officer man through and through, and he is the kind of person every club wants to have.
"There's no doubting his loyalty, and integrity, but most importantly – his ability."
Wyatt said Tivendale is in the mould of another south-east footy legend, in terms of the way he plays.
"He's a player built in the Michael Tuck mould – he's lean, wiry, and never seems to get injured," he said.
"Like Michael his biggest attribute is his consistency. The only difference between the two is that we won't be telling Ben when it's time to hang up the boots!"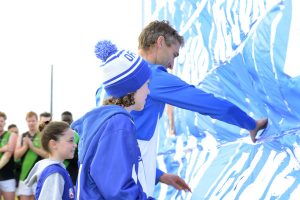 Club president Nick McLennan also spoke about what makes Tivendale the player he is.
"When I first joined the club back in 2005, I remember watching Tiv burn blokes with his speed and win games off his own boot," he said.
"Fast forward to 2019 and I'm still seeing the same traits every Saturday."
But, like everyone else to pay tribute to Tivendale, McLennan reserved his biggest praise for the person he is – not just the footballer.
"Our club has gone through a period where we haven't had the success we've desired," McLennan acknowledged.
"We've seen players come and go, but the one constant over this whole period has been Ben Tivendale. At times he has single-handedly held this club up and we, as a club, cannot begin to thank him enough for his passion and commitment.
"The word GOAT (Greatest Of All Time) is thrown around too often these days.
"(But) Ben Tivendale is our GOAT, and our club is a better place for having him around."
The final word is best left for the man, himself. Saturday was about 'Tiv' in the eyes of everyone around him. But his thoughts on his career so far gave a fascinating insight into just what makes him tick – family, both immediate, and at Starling Road.
"The idea of changing clubs has never been thought of," he said.
"This is my home, these people are like my second family, and I'll be here well beyond my football playing days.
"I'd like to thank everyone who has been involved at the football club and in my playing career. I couldn't have done it without their support. I'd also like to pay a huge debt of thanks to my wife Kim, and my kids, for letting me run off every Saturday to play footy."
The Doves took the well-earned honours in a hard-fought senior clash on Saturday, but the respect they, too,  showed to Tivendale will be remembered far longer than the four points.
Click below to watch 'Tiv' run through his 330-game banner – a moment he, his family, and the Officer football community won't forget in a hurry…