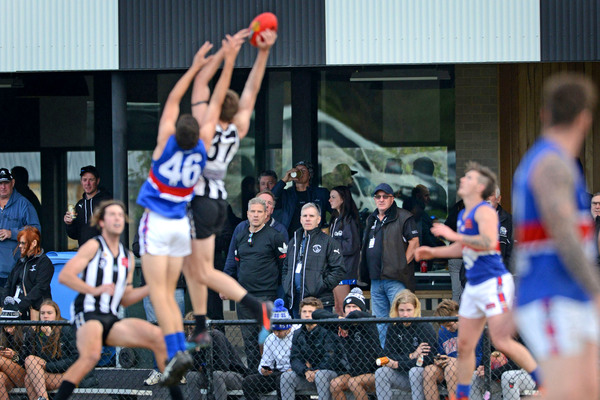 By Nick Creely
AFL Outer East is set to shun the traditional relegation process in 2020, with region head office confirming it is going to make a raft of changes as it searches to fast track the structure for its Outer East football and netball competition moving forward.
Star News understands that clubs will be provided the opportunity to apply to move down a division in 2020, even if they do not finish last in 2019.
Premiership teams and teams placing last will follow the relegation promotion system, however it means that next year, Outer East – rather than implementing the traditional one up, one down model – will see plenty of movement occurring between divisions, a process that region general manager Aaron Bailey explained to Star News as requiring a "whole club consideration".
"As we get any indications of clubs looking to move down, which we will do in Premier and Division 1, we will seek indications from clubs who wish to move into higher divisions. This may see increased movement in 2019 than we traditionally see," he said.
"We will continue to look at our competition structure, however at this stage nine, nine and eight is preferable for 2020.
"Being a new structure – and the Division 1 and 2 being really good competitions – the Premier Division at the moment is not as competitive as we'd like, and this will allow clubs to have some control of their own destiny, and able to identify where the best fit is to build a long and sustainable program at their club.
"This allows clubs to speak to their players, coaches, sponsors and members and set clear direction for next year and beyond. Movement up from divisions below will be confirmed once we have a clear indication of club preferences in the division above.
"Clubs who are at the bottom end of divisions, but believe that division is best fit for them, now can put the steps into place to be successful in that division and start building for the next three to five years."
Bailey added that there has already been some initial discussion about next year, with Star News understanding that several clubs have already indicated their preferences.
"Clubs have spoken to us (already) about their best fit for 2020, so the conversations have certainly started, but the formalities will be a four to six week process, and once we know who wants to go down, we'll be able to outline to all clubs the promotion and relegation model for 2019," he said.
"We expect there will be increased movement this year."
But as for some north-east clubs competing in Division 2, Bailey said that for the long-term future in the region, there is still some work to do to find the best solution.
"We are working with AFL Goldfields and AFL Goulburn Murray to find the best structure for football in that region, which will be finalised over the next six months. We will work with those clubs to identify the best structure for football in the Murrindindi Region," he said.
"There is work being done in regard to whether there can be a standalone league, and that'll be out of that region, and if not, what will be the best long term fit for each club.
"We want these clubs to be sustainable, have increased opportunities to play finals, and compete every year – we need to look at how to do that, so we'll work with all those clubs individually.
"This is a consultative approach with them, they'll be part of the process – our preference is to create a standalone league where they can compete across the central Goulburn, north-east region.
"What we want to do, is make sure they are sustainable, that they have pathways, and they have the opportunity to have success, and playing finals.
"We're hoping to have an answer on that by the end of the year."
Bailey said that AFL Outer East expects to deliver all aspects of the 'Future Direction of football and netball' document by 2021, with the current priority to provide three senior divisions, where clubs find their level in senior football, netball and under 18 football.
But being meticulous, and ensuring they don't do damage to any club by placing them in a division they can't be successful in, is vitally important moving forward.
"Our key is to get the structure right, and to get all the clubs in the right divisions – if we go one up, one down, we don't want a club languishing at the bottom where they're not suited. That could do long-term damage," he said.
"We're seeking feedback on clubs on their current position and what level will provide each club the best chance of building strong, vibrant football netball structures.
"But for us, our future direction is set, we are where want to be as a competition, a divisional model in Casey, Yarra Ranges and Cardinia. That allows growth and entry points for new clubs and sustainability within the existing clubs.
"We need to be flexible, listen to clubs and move clubs around more than what we would normally do to find the model that works.
"Once clubs tell us where they want to be, we will start to move towards that and its on clubs to build and grow within that."
Another major change set to come in as of next year is in the under-18 football model, with the potential for senior sides to not be competing in the same division as their pathway sides.
"We are currently seeking feedback for clubs on their preferred model with underage football moving forward," Bailey said.
"Creating competitive underage competitions is a high priority for us. The model used by the EFL and Geelong, where teams are graded, is one we are keen to implement.
"The structure for the under-18s will hopefully come out by the end of June this year for 2020, and that may see some changes to the traditional under 18 model of the past.
"Under age football and netball continue to be key areas in our restructure."
As for new clubs set to enter AFL Outer East in the future, Bailey said that ensuring the region gets its structure right was the priority for the time being. But he also indicated that Berwick Springs was tracking along well, and is not too far away from being a senior club.
"Berwick Springs have done a really good job in developing under 18's and netball, and by 2021 they will be a senior club. We are hopeful that as early as 2020 they will enter a side(s) at senior level," he said.
"But we're keen to work with new clubs, and Berwick Springs is a very good start. It is crucial we develop more clubs in the Casey Cardinia region and we will continue to have conversations with clubs, particularly in the South East Juniors around becoming senior clubs. As our competition structure finalises over the next two years, opportunities for existing clubs to join the Outer East competition may emerge.
"In the short term, our focus is on getting the structure right. We are confident that as that happens, more opportunities for clubs will develop."