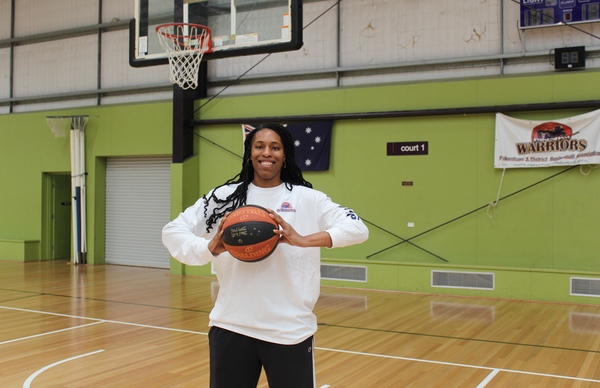 By Russell Bennett
There's simply no doubt about it – the Pakenham Warriors mean serious business this Big V basketball season.
They've set their sights high throughout their various teams, and refuse to shy away from their championship aspirations.
A key component of Simo Pajdic's senior women's side is the Warriors' first ever female import, 6'5" American Daphnee Frieson.
A native of Mobile, Alabama, she played her college basketball for the University of Mississippi and Stetson University, both in Division 1 of the NCAA.
Frieson has since enjoyed a long and successful career overseas – particularly throughout Europe – playing in Romania, Hungary, Bosnia, Spain, Lebanon, Bulgaria, Puerto Rico in North America, and most recently in Albania where she played in the Albanian Superliga and averaged 17 points per game and 14 rebounds per game.
Pajdic could hardly hide his excitement when it came to Frieson's signing, saying: "We're rapt to have signed Daphnee – it has been a long time coming.
"She will play a huge part in our local community, with coaching at Aussie Hoops, Warriors clinics, and with individuals, while also being a familiar face at VJBL games.
"Daphnee's on-court abilities suit our group perfectly. We're fairly small in the frontcourt and I have no doubt she will provide us with the scoring, rebounding, and shot blocking capabilities we need. I have no doubt she will also create match-up challenges for our opponents."
Despite only arriving in Pakenham late last week, Frieson has already made her season debut – recording 9 points, 7 rebounds, and 2 blocks in a 78-62 victory over the Wallan Panthers at Cardinia Life on Sunday afternoon.
The Warriors are currently tied for first in a log-jam atop the Division 2 women's standings.
After navigating the at times arduous process to head to Australia to continue her basketball career, Frieson is just excited to make an impact for her new Warriors team mates.
With years of playing overseas already under her belt, her leadership and experience will be a massive factor for Pakenham – particularly given Pajdic's outfit has so may rising talents coming through the ranks.
Frieson has a well-rounded low-post game, both on the offensive and defensive ends, and her ability to box out and alter shots will be vital to a Warriors team that isn't overly tall.
When asked what her most notable contribution would be on the court, Frieson spoke honestly.
"Whatever it takes to help us win," she said.
"If it means sacrificing points to rebound and play defense, I'll do it.
"Whatever they need from me, I'll do."
Frieson is looking forward to mentoring Pakenham's younger players – to help them learn and benefit from her own experiences, both positive and negative.
"I've had good and bad experiences, and the bad experiences have helped make me the strong woman that I am today."
Pakenham's Big V Division 2 women's season continues this Saturday night against the Sherbrooke Suns from 8pm at Belgrave Heights Christian School.