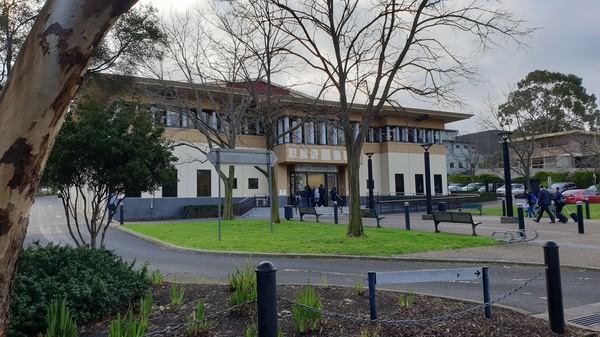 By Cam Lucadou-Wells
In a fit of dangerous road rage, a Maryknoll excavator deliberately rammed his dual-cab ute and tandem trailer into another car on the West Gate Freeway, a court has heard.
Jake Perez, 35, twice merged narrowly in front of the victim's Hilux during busy Friday-afternoon traffic on 3 December 2018, police told Dandenong Magistrates' Court.
When the victim overtook to avoid him, Perez drove up beside him and gave a volley of verbal abuse.
Perez then swerved the rear of his vehicle and trailer into the side of the victim's ute, causing $3000 of damage.
After a roadside argument, Perez then drove off without exchanging details.
Perez, who owned the business Perez Pits, was disqualified from driving at the time.
With a long history of driving offences, he was also banned from driving as part of his bail conditions, the court heard.
In a police interview, Perez allegedly denied involvement, refusing to look at photos that allegedly depicted him at the scene.
He later pleaded guilty to charges including dangerous driving and reckless conduct endangering the public.
Perez also pleaded guilty to riding a stolen and unregistered motorbike while he was disqualified and substance affected in Pakenham in November 2019, as well as disqualified driving in Officer in July.
A defence lawyer told the court on 28 January that Perez's life had "spiralled out of control" into drug abuse after a relationship breakdown in mid-2019.
His 84 days in remand – his first time in custody – were a "huge wake-up call", the lawyer said.
On two community corrections orders, Perez had failed to complete his unpaid work hours. But he had engaged with mental health treatment, the lawyer told the court.
"He's now in a position where he accepts he needs help."
Police prosecutor Senior Constable Tess Holmes urged for a sentence that "protects the community and punishes the offender".
Noting he'd put drivers in danger, Sen Const Holmes said Perez's sentence should deter him and others from such behaviour.
Magistrate Tony Burns said Perez was an "absolute menace" who'd wasted "ample opportunities" on CCOs.
Mr Burns cancelled the two CCOs and re-sentenced Perez on the related charges such as dangerous driving while pursued by police.
Perez was jailed for six months, fined $4000 and ordered to pay $3000 restitution for the damage to the Hilux.
He was also disqualified from driving for three years, including a mandatory 24 months for combined drug-and-drink driving on the motorbike.