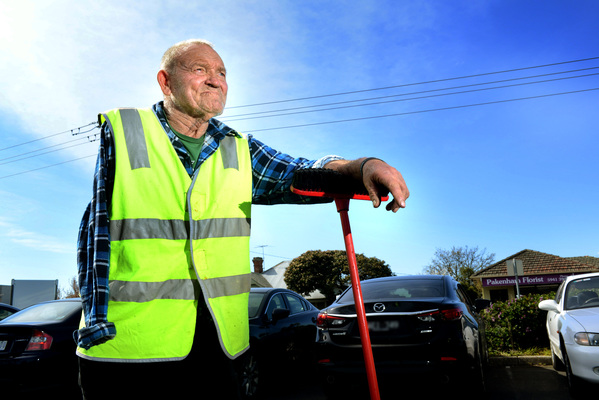 By Jessica Anstice
Pakenham businesses were targeted by a woman who allegedly urged for "donations", following an elderly man falling victim to a hit and run incident on Tuesday.
The blonde-haired woman, believed to be in her 30s, allegedly claimed to be a family friend of victim Kelvin Rees.
She visited multiple businesses along Pakenham's Main Street as the incident was occurring in the Main Street Plaza car park about 9am.
A staff member from the florist on the corner of John and Main Streets stated she knows Mr Rees, and doesn't believe his wife would "set someone up to go asking for money".
"We know the family very well – we see them on a daily basis," the woman, who wishes to remain anonymous, said.
"To me, I just thought it was out of character because I know them and I don't reckon she would've put someone up to that."
The alleged scammer also visited a real estate agency and NewsXpress along Main Street, just half an hour after Mr Rees was knocked to the ground by a bicycle.
Newsagency staff member Kerry Williams recalled the police officers at the rear of the building at the time the woman entered the store.
"It just seemed a bit off. I told the woman I would let the police and store owner know that she is here and she took off," Ms Williams said.
"She said she had been around to all of the local businesses asking for donations for Kel. She looked like a regular woman with long blonde hair."
None of the businesses that were approached donated money, and police are investigating.
"It's like when people loot when there's a fire or flood, it's just not OK," Pakenham business owner Charlie De Maio said.
"It's as low as you can get and it's just not on. I'm always very wary when people come in asking for money."