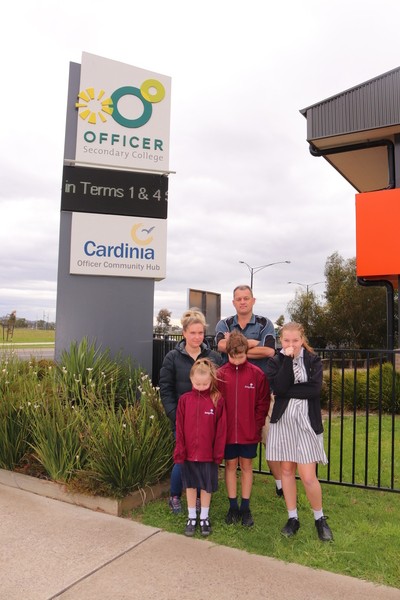 By Danielle Kutchel
Frustrated parents say it's time for a bus route to the growing Officer Secondary College, with some students navigating several kilometres of disconnected footpaths and crossing the busy highway to get to school.
Currently, there is no dedicated or public bus service to the school, which is located approximately 950 metres from Officer Railway Station.
A petition is circulating calling for residents to sign in support of the creation of a bus route.
Kerri Sherry, president of the school council, said parents had been fighting for a bus for three years.
"We have been turned down twice. We were told funding had been denied.
"We have another application in now and it has been in since August but there is no progress on it."
She said the school would have approximately 1100 students next year coming from Beaconsfield, Pakenham and further afield, and many parents had indicated that they would like a bus.
"Even within Officer, there are kids who can't walk because there are no footpaths – not a lot of paths connect the estates. Some walk along Princes Highway which is certainly not safe – I won't allow mine to do that," she said.
Ms Sherry said besides addressing the safety issue, a bus service could improve student attendance, increase students' independence and help get cars off the road.
Bec Mills, whose children attend Officer Secondary College, said she would utilise a bus service if one was available.
"A bus would be quicker and safer for my children. At the moment, it's easier and quicker to send them to school in Rowville than to Officer – and I've considered it."
Gembrook MP, Brad Battin, said he couldn't understand why there wasn't already a bus service in place to serve the school's growing student numbers.
"The only thing we can put it down to is a lack of will from the government to work with bus companies to put in place a public or dedicated school bus," he said.
"The school's numbers are increasing, they've got the enrolment numbers. It's fairly simple to achieve."
He said other public schools in the area had bus services, leaving Officer alone in being bereft of adequate transport options for students.
Mr Battin added he would raise the issue in Parliament once the petition was tabled.
A spokesperson for the Department of Education said: "We know that Victoria is growing and that this can place pressure on services however, there is existing public transport that services Officer Secondary College.
According to the Department, a Ventura Bus Lines school bus service operates between Pakenham train station and Berwick Secondary College, via Officer Secondary College.
Officer Secondary College was contacted for comment but did not respond before deadline.