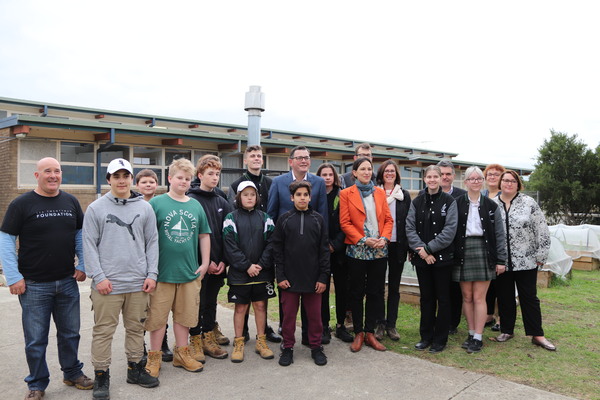 By Danielle Kutchel
Pakenham Secondary College has turned the first sods on its Community School Farm project – and their hard work has won praise from none other than the premier himself.
Premier Daniel Andrews was in Pakenham on Wednesday to view the project, accompanied by Member for Bass, Jordan Crugnale.
Pakenham Secondary College received a grant through the Pick My Project community grants initiative last year to enable them to start the project.
The premier was given a tour of the school and met some of the students hard at work turning the soil on Wednesday.
The students and their teachers said they are currently prepping the garden to plant garlic.
"It's a much better use of a dead space," the premier commented.
The school is also transforming a disused hut on the grounds into a new hub for the student body, utilising recycled timber for tables and other sustainable materials. It's a hands-on process, with students involved in planting crops and making the furniture themselves.
They proudly showed off their handiwork to the premier, who noted the importance of the sustainability aspects of the projects.
Acting principal Emmanuel Merambeliotis described how the farm project would enable the school to form links and pathways with local businesses and farms.
"There are a lot of good opportunities for students to move into agriculture and horticulture, so we're hoping to develop those pathways," he said.
Speaking after the premier's whirlwind visit, Mr Merambeliotis said, "We're very happy he was able to come out."
He said the project had helped the diverse student body to find new ways to stay engaged – both in the classroom and with their community.
"Providing opportunities where we can better engage them through applied learning, classroom based activities, out of class activities, community activities, we're finding really helps their learning," he said.
"Part of this is to immerse the students into the local community … our plan would be to use food and food production to engage ourselves with the local community groups that are coming out this way. It breaks some of the preconceived ideas that some people might have about this particular group or that particular group. We're looking at connecting in a positive way."