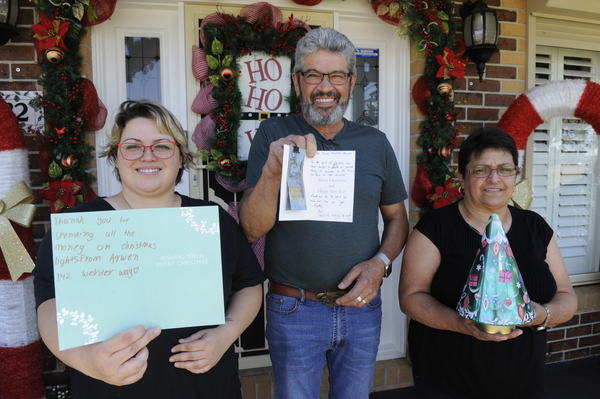 By Bonny Burrows
Appreciative children are continuing their random acts of kindness in the lead-up to Christmas.
Pakenham residents have contacted Star News overwhelmed by the generosity of local children, in particular three siblings who can now be revealed as Cassie, Caity and Mitch Haysom.
The Haysom children have donated their December pocket money in appreciation of the area's best festive-themed homes.
On 4 December they anonymously left a $5 note and Christmas card in Pakenham resident Jill Monzina's letter box as a thank you for her Christmas light display.
The siblings have since come forward after reading an article in the Pakenham Gazette and paid a visit to the Monzina household on Sunday 17 December.
Ms Monzina, who was delighted to be able to thank the children in person, described them as the "most well behaved".
"We've struck up a friendship. They plan to come back next weekend. We're so excited," Ms Monzina said.
She said that according to their mother Laura, the children had chosen to donate their pocket money to a number of households across the shire.
"She said it was something they had decided to do. It's just lovely," Ms Monzina said.
The simple gesture also meant a lot to another recipient – Pakenham's Camargo family.
Like Ms Monzina, Webster Way resident Stephanie Camargo opened her mail on 4 December to find a Christmas card from the children with the message "To the home's Christmas decorator, in the spirit of Christmas we have decided to gift our pocket money for December to the houses we think are best decorated. Thank-you for the effort you have put into your light display."
Tapped inside the card was $20 in $5 notes.
Ms Camargo said the family, who admit they spend "more on lights than presents", were overwhelmed by the children's thoughtfulness.
The family take their Christmas decorations seriously and start planning their displays in October.
The Camargos said they were very particular with their displays, with planning commencing in October each year.
"My dad always says it has to be perfect or it's not worth doing at all," Ms Camargo said.
She said decorating the hose each festive season was a family tradition dating back three generations.
"It started with my pa, was passed down to dad and now me," Ms Camargo said.
"We do it mainly for the children so it's nice they like it.
"It makes all the effort worth it."
The siblings weren't the only children to acknowledge the Camargo family's efforts.
The family has also extended their thanks to Arwen, a little girl who also lives on Webster Way who, just days after the Haysoms' gesture, knocked on the door and presented the family with a Christmas card and toffees.
The Camargos' lights display at 132 Webster Way will be on every night from 8.30pm to midnight until 6 January.