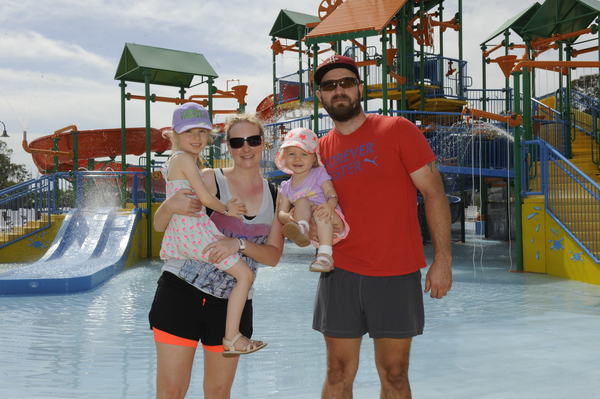 By Bonny Burrows
Families have flooded through the gates of Gumbuya World, eager to get the first look at Australia's newest theme park.
Stage one of Gumbuya's $50 million transformation from a park to a World opened to the public on Monday 18 December, just in time for Christmas.
Local entrepreneurs Gerry Ryan, Wal Pisciota, Adam Campbell, Brett Murray and Ray and Ron Weinzierl were on hand at the morning's official opening to celebrate the realisation of their dream of transforming the once daggy toboggan and wildlife park into a leading tourist destination.
Mr Ryan said as a long-time local resident, he had to be involved in the project.
Particularly so, he said, when he learnt who else was on board.
"It was 18 months ago that I had a phone call that said 'hey Gumbuya Park is up for sale would you be interested?'
"I said 'who's involved?'," Mr Ryan said.
"It didn't take me long to realise the men behind it had a vision for this park I used to bring my kids to 40-odd years ago. So it had fond memories for me."
Gumbuya World CEO David Thompson talks about the transformation
The group acquired the park in September 2016 and closed it in July this year to begin the rebuild.
The first stage of the men's $50 million vision rests on 30 acres of the 430-acre site and includes the Oasis Springs water park, which includes a 180m dark slide, interactive jungle gym with giant water bucket, wildlife trail and the Oz Adventure and Outback Explorer worlds, which include roller coasters and an "outback pirate ship".
Gumbuya World CEO David Thompson described the site's transformation as a major boost to the local economy, in particular employment.
The former Gumbuya Park employed 24 people at its peak and upon completion Gumbuya World is expected to employ about 500 workers.
"It's incredible, you've already got 150 brand new employees here, nearly all of them are local," Mr Thompson said.
He said visitors could expect "an unbelievable experience".
"A great family day out for a very good price per hour and four different worlds here, water, wildlife and rides," Mr Thompson said.
The transformation has been welcomed by local leaders who have praised the syndicate's strong vision.
Bass MP Brian Paynter said he had fond memories of the park as a child, but was excited to see new life brought into the local attraction.
"I came here as a kid so to see it transform is remarkable. I've been coming here on and off for 40 years," Mr Paynter said.
Cardinia Shire Mayor Collin Ross said the project was a boost to the local economy like no other.
"It's an absolutely wonderful place and really good value for money," he said.
Senior animal keeper Melanie Mantel invites everyone to visit the new Gumbuya World
Stages two of the park will commence mid next year, with "minimal disruption" to guests.
Works will involve the inclusion of an Indigenous cultural centre, 400-seat auditorium, dinosaurs' exhibit and a host of new rides and attractions.
Gumbuya World is open daily excluding Christmas.
Entry is only via online tickets. Bookings can be made at www.gumbuya.com.au.
Tickets are $49 for adults aged 16 plus, $43 for children aged three to 15 and children under three are free.
Seasonal passes are expected to be on offer from mid-next year.
The men behind the project cut the ribbon to officially open Gumbuya World