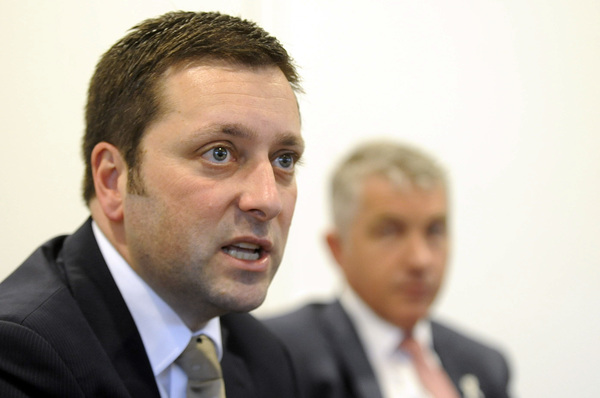 By Kyra Gillespie
Pakenham's most congested arterial road has been promised a facelift under a Liberal Nationals Government in 2018.
The Racecourse Road and Bald Hill Road intersection has been declared one of the worst of 55 in Victoria by Opposition Leader Matthew Guy.
Visiting the site on Tuesday 21 November, the Shadow Minister for Roads and Infrastructure David Hodgett revealed that a grade separation was the likely solution to counteract the local volume of traffic.
"Pakenham has been neglected for far too long while Daniel Andrews has allowed traffic congestion," Mr Hodgett said.
"Residents are the eyes and the ears of the community and we will do everything we can to accommodate their needs."
Announcing what he describes as "the biggest traffic congestion project in Victoria's history", Mr Guy's Get Victoria Moving initiative targets a number of the state's problematic arterial roads.
"A Liberal Nationals Government will commit between $4.1 billion to $5.3 billion to removing traffic lights and roundabouts through grade separations at 55 of Melbourne and Geelong's most congested intersections on our busiest arterial roads," he said.
"My project continues the work of the level crossing removal program to eliminate congestion hotspots across Melbourne and Geelong.
"Everyone agrees level crossing removals will help free-up traffic congestion, but it's only part of the solution.
"The other part of the solution is to remove some of the worst congested traffic light intersections and major roundabouts by grade separating them."
While local residents and business owners have welcomed the proposal after years of tackling the problematic road, many think there are more pressing issues that need to be addressed on Racecourse Road.
Melbourne Rotomould, a local plastic rotational moulding manufacturer operating out of Pakenham, said it was suffering due to a combination of the road conditions and the poor train signalling at Pakenham Station.
"The roads are a massive problem for business and for the past nine years we've had to push back trucks earlier and earlier in order to get through the traffic to jobs on time," business co-director Tim Leeds said.
"We have a commitment to customers to have trucks arrive at the right place and the right time and it's nearly impossible to be efficient with the conditions of this intersection.
"But the train signalling at Pakenham Station is probably a bigger issue. The signals get triggered as soon as the train leaves Cardinia station, meaning the gates are coming down before the train has even reached the platform.
"You can be waiting anywhere from 7-10 minutes, I've timed it. It's ridiculous and easily fixable."
Pakenham resident and mother Mikayla Kennett has also been petitioning for pedestrian crossings for several months.
"Racecourse Road only has one suitable pedestrian crossing which is located near the milk bar on the corner of Racecourse Road and Cameron Way," Ms Kennett said.
"Although this crossing is suitable for pedestrian use, it is not suitable for the use of young families and needs to be upgraded to a more appropriate and safe crossing.
"The crossing itself is nothing more than a small road island for pedestrians to stand or wait at, in the centre of the busy traffic travelling at 60kilometres per hour on either side."
Liberal Bass MP Brian Paynter said the proposal is "a great result for the community in Pakenham", but agrees that the entire stretch of Racecourse Road needs to be upgraded.
"Time is money for motorists and surrounding businesses.
"When I first moved to Pakenham as a kid the estate behind Racecourse Road was one of the original estates to be built, yet the road hasn't changed in all those years.
"I will be pushing for upgrades to happen on both ends of Racecourse Road, including pedestrian crossings."
Traffic congestion costs the Australian economy about $5.54 billion a year, with 77 per cent of Cardinia residents taking a car to work every day according to recent census data.
Matthew Guy's major infrastructure project is also estimated to create about 5000 new jobs in addition to indirect jobs.
Key design considerations will include road safety, efficient movement of traffic and aesthetics.
Funding for the project will be come from the Victorian Government, the Federal Government and the proceeds of the sale of the Victorian share of the Snowy Hydro Scheme.