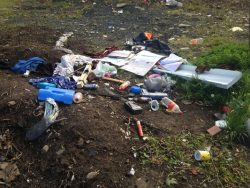 By Bonny Burrows
For the past eight years, Chelsea McGrath-Rafferty has watched a "beautiful" Pakenham reserve transform into a rubbish dumping ground – and now she's had enough.
Home to an abundance of fauna and flora, the once scenic park- located at the back of Meaby Drive – is now littered with junk, which Ms McGrath-Rafferty said had got progressively worse over time.
"I often walk with my family and the dog as the environment and views are amazing. There are kangaroos, echidnas, kookaburras and beautiful trees and scrub," Ms McGrath-Rafferty said.
"Then you look around and see the mess – a large amount of plastic bottles and litter, but then to add to this is the constant dumping of mattresses, ex-household belongings, tiles and doors from new houses."
The reserve backs on to an empty housing estate which is also a dumping ground for household waste, she said.
"You can drive up there from Pakenham Road, it's easy to access which I guess is why people drive up with a car or trailer load and dump their rubbish. It's awful," Ms McGrath-Rafferty said.
"It's been an issue since I moved here about eight years ago. I have contacted the council concerning this matter a few times, but nothing ever gets done."
The dumping of rubbish wasn't isolated to the reserve, with the resident pointing to an article in the 14 September Pakenham Officer News highlighting "the overgrown disgrace" that was Kennedy Creek.
"It's an ongoing issue around Pakenham. Kennedy Creek is quite awful as well, people just don't seem to care," Ms McGrath-Rafferty said.
"It's really disappointing."
She said enough was enough; action needed to be taken.
"People who are offending need to be caught and fined," Ms McGrath-Rafferty said.
"The council needs to be responsible for cleaning up the mess or even if a few small people like me can do our bit and report the dumping and pick up a few bags of litter on my walk, at least it's slowly removing some of the mess."
Ms McGrath-Rafferty argued it was a case of many hands makes light work.
"Keeping Australia, or in this case a small part of Pakenham, as beautiful as it is, is a matter which affects us all; the environment and wildlife and the generations to come," she said.
Cardinia Shire Council's acting co-ordinator of compliance services, Jack Alford, said the shire was aware of illegal rubbish dumping at the Galway Gold Estate and regularly picked up dumped rubbish from that area.
"Our compliance officers are regularly instructed to patrol the estate and investigate when in proximity to the estate," Mr Alford said.
The council asked that residents who witness any illegal rubbish dumping, record as much detail as they can and report it to the shire for investigation on 1300 787 624.
"The council may carry out further enforcement action against offenders if identifiable items are found in the rubbish or eye witnesses provide witness statements to the council," Mr Alford said.
Offenders may be charged under the Environmental Protection Act 1970 and if found guilty, face a maximum penalty of $6342.