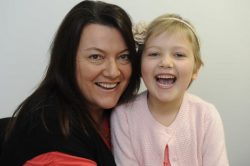 By Bonny Burrows
A very special girl may lead this year's Pakenham Light the Night participants on the annual walk.
Six-year-old Kassidy Hill of Berwick and her mother Karen have been invited to lead the 6 October lantern parade at the Leukaemia Foundation fund-raiser at the Lakeside lake.
Kassidy is bravely fighting acute lymphoblastic leukaemia (ALL), the most common form of childhood leukaemia, characterised by an overproduction of immature white blood cells which crowd the bone marrow, preventing it from making normal blood cells.
Kassidy was diagnosed in late August 2016, aged five.
Her symptoms were feeling "slightly unwell", a slight temperature, fatigue and an "extremely pale, odd pale" complexion.
"The GP initially thought it was a cold," Ms Hill said.
But he took a precautionary blood test and later that evening the family got a call to come in.
"He said immediately that she had leukaemia. Kassidy was rushed to Monash Emergency," Ms Hill said.
"That time was a vag fog for me and the family."
For the past year, Kassidy has undergone monthly hospital chemotherapy sessions, fortnightly blood count checks, and takes oral chemotherapy drugs daily.
She's also had an operation to insert a port to administer chemotherapy directly instead of using a cannula.
If all goes well, the port will remain until treatment is finished in November next year.
Her mother said this was the best case scenario, and said the expected treatment time was extended with each setback – be it an infection or illness.
To minimise this risk, there are certain activities Kassidy cannot participate in.
Unlike her school friends, she can't swim in public swimming pools or play in indoor playgrounds – the risk of infection is too high.
But despite her challenges, her family is determined to give Kassidy as normal a life as possible.
The family is soon off to a trip to Queensland, and has plans to travel to Disneyland once Kassidy's treatment is complete.
They are also holding out hope for Kassidy's grandfather, who was recently diagnosed with lymphoma.
Ms Hill said her father faced a tough fight, but found courage in watching Kassidy bravely fight her battle.
She said her family's experiences drove home the importance of fund-raisers such as Light the Night.
Ms Hill attended the lantern parade fund-raiser for blood cancers for the first time last year, just six weeks after Kassidy's diagnosis, and found it a "beautiful, uplifting experience".
"People think it's a sad event, but is quite the opposite of that," Ms Hill said.
"It's such an uplifting celebration of community support.
"Everyone at Light the Night is happy, and it's such a great way for the community to get together for a couple of hours and share their happiness."
Ms Hill said the event had also given Kassidy's friends and family a purpose.
"Lots of people wanted to do something for Kassidy when she was first diagnosed, but there wasn't really much they could do and they felt quite helpless," Ms Hill said.
"Participating in Light the Night has given them a way to help."
To join Ms Hill and Kassidy at the Pakenham event, visit https://lightthenight.org.au/event/pakenham, or search for your local event at https://lightthenight.org.au.