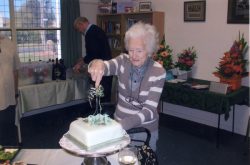 By Kyra Gillespie
Members of the Pakenham RSL threw a surprise 100th birthday party for Sybil Hickman on Sunday 17 September.
Ms Hickman has been an active RSL and Probus member in Pakenham for over 20 years.
"What I enjoy most about it is the friendships and the trips we go on," Ms Hickman said.
The secret to longevity, according to Ms Hickman, is living a healthy life.
"You need to have good health, it makes all the difference."
Ms Hickman grew up in Harborough in England, where she met and married her late husband Howard Thomas at 22 years of age.
"We grew up in the same town. We lived at the top of the hill and he lived at the bottom."
As a career Ms Hickman was a secretary for Symington, a corset factory that her father owned.
"Symington's was a corset factory; that shows how long ago it was!
"It was jolly good working for my father."
During World War II, between 1939 and1945, Ms Hickman was an air raid warden.
Only in her late twenties, her job was to help clean up after bombing raids.
"It was stressful, but it was nice to be able to do it."
Ms Hickman recalls seeing London burning from Harborough.
As an avid traveller, Ms Hickman has been all over the world.
Her last big trip was to Antarctica when she was 90 years old.
During her travels, Ms Hickman has witnessed some incredible moments in history.
When she was in Russia, she witnessed the collapse of the Berlin Wall while she was eating her breakfast.
"I had to tell the Germans that it had come down, they were all so excited.
"It was pretty incredible."
Ms Hickman moved to Pakenham from England to be closer to family.
Ms Hickman now has two grandchildren and four great grandchildren.
"My happiest memories are being out here with my family," Ms Hickman said.
Her son, John Hickman, remembers when Pakenham was just a collection of paddocks.
"When we came to Pakenham in 1985, you could blink and you would miss it – it was so small!" John said.
Speaking fondly of his childhood, John recalled his mother's kind nature and talent for sewing.
"She was a pretty good mother – when I wasn't being too much trouble," Mr Hickman said with a laugh.
"She has such a talent for sewing; she can make anything and everything."
Ms Hickman's 100th birthday has been accompanied by lots of birthday parties.
"Her 90th went for about a month!" John said.
Celebrating such a huge milestone has been a bit of a rollercoaster experience for Ms Hickman.
"Turning 100 has been exciting but tiring," Ms Hickman said.