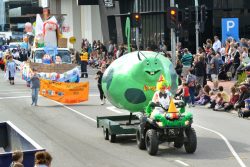 By Bonny Burrows
The committee behind Pakenham's Yakkerboo Festival is hoping to inject some fresh green blood into its team.
With a number of its members recently stepping down after decades of service, the committee is looking to attract younger members with new ideas.
Its remaining volunteers are hoping the fresh blood will inject new life into the festival, now 41 years old.
Committee member and new mum Naomi Horsley said the only requirement to join was a love of Pakenham and the local community.
"If I can do it, anyone can do it," she said.
Joining the Yakkerboo committee was a great way for the shire's youth to engage with their local community, while obtaining experience in event management, Ms Horsley said.
She believes the future of the festival is in the hands of the next generation.
"We still at the heart want to keep it the way it is, but new ideas, new faces are always great," Ms Horsley said.
"I'd love to see it run for another 41 years, and some fresh ideas would be very good."
Those interested in going to Yakkerboo Festival committee are asked to come along to its annual general meeting, to be held on Wednesday 23 August at the Cardinia Club boardroom, Pakenham from 7pm.
Members will be required to attend a monthly meeting, and assist for a period of time during the annual festival.
For more information phone committee president Ron Woodfine on 0408 543 003.