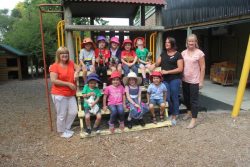 By Bonny Burrows
A fight to have Cardinia Shire restart its early years management (EYM) tender process has not ended, despite councillors overturning a management decision on one of the chosen organisations.
It was standing room only at Cardinia Shire Council's 17 July general meeting, where parents and current Cardinia Shire early years provider Kinders Together staff turned out in protest at council's "deeply flawed" expression of interest (EOI) process, which did not involve community engagement.
They argue the process should be restarted to include parent and staff feedback, and were hoping councillors would vote to halt the process and go back to the drawing board to ensure the community's voice was heard.
But to their dismay, the three-hour debate instead saw councillors support a motion by Councillor Ray Brown to appoint Glenn Waverly-based organisation Bestchance as the manager of the three centres previously allocated to Western Australia-based organisation One Tree.
The decision to cut One Tree as a provider came following community and councillor concern that local jobs would be lost to interstate workers and child safety could be compromised.
One Tree was subject to state tribunal disciplinary action in 2016, after a staff member was found to have not adequately cared for a child at once of its centres.
Cardinia Shire Deputy Mayor Jodie Owen said the local community "had concerns, and that in turn made me concerned", however she didn't feel restarting the tender process would necessarily change its outcome.
Cr Owen, along with councillors Brown, Graeme Moore, Leticia Wilmot and Michael Schilling, all voted in support of the "compromise" to axe One Tree rather than restart the process.
However the mayor, Cr Springfield and councillors Collin Ross and Carol Ryan thought otherwise, arguing the council owed the community more.
"As a father myself with a child who goes to kindergarten … I won't be supporting this process," the mayor said.
"With such big change like this, you need to bring the community with you. If you can't get it right, you can't get the end result right."
Despite this, majority won and the motion was passed to overturn Cardinia Shire CEO Garry McQuillan's original awarding of the tenders.
Instead of recommencing the process, Mr McQuillan will renegotiate the award of the EYM so that Bestchance manages 16 of the shire's kindergartens, and Early Childhood Management Services (ECMS) manages the under-construction Gum Scrub Creek Early Years Centre.
He will also negotiate job security as a priority with Bestchance, signalling it was looking to retain current Kinders Together staff.
The decision left the public gallery in tears.
Kinders Together parent and staff advocacy group Keep Our Kinders Together have refused to give up their fight for a "fair process", with its members declaring they "don't accept" council's decision.
The group is now working with local State Government representatives Brian Paynter and Brad Battin to determine possible options to further appeal the decision.