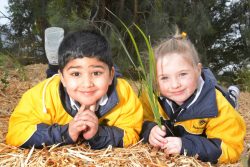 By Kyra Gillespie
Berwick Toyota is teaming up with the staff and pupils of Beaconhills College to dig in and celebrate the 22nd year of Planet Ark's Schools Tree Day on Friday 28 July.
Marking this special occasion, the Beaconhills College community and Berwick Toyota staff will get their hands dirty with planting activities at the school, as part of what has become Australia's largest community tree planting and nature care event.
Not-for-profit environmental foundation, Planet Ark, has again partnered with Toyota and its extensive national dealer network to get both communities and schools across Australia involved in the initiative.
Through Schools Tree Day and National Tree Day, Planet Ark and Toyota hope to create a society in which people understand the value of their environment.
Berwick Toyota has been doing the National Tree Day with Beaconhills College for the past seven years.
Since 1996, National Tree Day and Schools Tree Day have been responsible for planting well over 23 million trees, plants and edibles with 3.8 million Australians donating their time throughout the years. In 2016 alone, more than 300,000 Australians participated in events across the country, planting more than 1 million plants with the support of 219 Toyota Dealers.
Debbie Agnew, spokesperson for Planet Ark, said: "Australia is a unique and breathtaking country and it's critical that we conserve our natural heritage, as well as bring nature back to urban areas – our homes, workplaces, schools and cities. With the support of Toyota and its dealer network, we are sure Australians will get their hands in the earth and give back to their community this National Tree Day."
General manager, Sam Freer, added: "Toyota has a long tradition of supporting the community at local and national level, and National Tree Day is a great way for us to give something back. Our team will be there, buckets and spades at the ready for a big day."
Anyone and everyone can get involved in National Tree Day through Treeday.planetark.org or by contacting their local participating Toyota dealership.