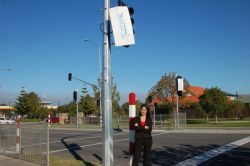 By Bonny Burrows
McGregor Road's pedestrian crossing lights should be flashing within the month, following a seven-month hold-up since their installation.
The lights, just outside the Heritage Springs Shopping Centre, were installed at the beginning of 2017 following community lobbying and were expected to be operating by the commencement of the school year.
A Cardinia Shire report in identified the project as a "major priority" which would "significantly improve the safety of pedestrians, including schoolchildren, at this location".
However, seven months later the signals still remain dormant.
Local driving instructor Elaina Haig, who was instrumental in getting the lights installed, doesn't understand the hold-up.
Ms Haig has been contacting the relevant bodies since the start of the year in a bid for answers, but said all involved parties – Cardinia Shire Council, AusNet and VicRoads – had "pointed the finger" at each other.
She wants to see the light's activation on the busy 70km/h road as soon as possible, "before somebody gets killed".
"I just don't get why it's taking so long. They're sitting there ready to go – switch them on," Ms Haig said.
An AusNet spokeswoman said preliminary works on the lights to make them ready for activation had been completed by the power company, and Cardinia Shire Council had been informed of the works.
"It is now up to the council to notify us when they want the lights turned on," the spokeswoman said.
Cardinia Shire Council's team leader of engineering, Cathal O'Loughlin, said council had requested AusNet connect power to the signals following their installation in January.
Activation is expected within the month, according to the council.
"AusNet services has confirmed they will have a contractor attending the site to complete their component of works, after which VicRoads will finalise the works to make the lights operational," Mr O'Loughlin said.