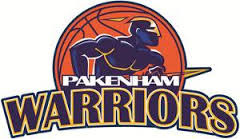 By Russell Bennett
The Pakenham Warriors Big V basketball senior men have returned to the Division 2 winners' circle with a seven- point triumph over the Gators at Altona on Sunday, 78-71.
Forward James Topp returned to the Pakenham line-up for the first time since early April and had a huge first-up impact, finishing with a big 17-point, 10-rebound double-double in a side missing big man Brad Bridgewater and star forward Ben Gaze.
Altona led 23-21 after a back-and-forth opening quarter on their home floor and took a two-point margin once again into the main break.
Down three with a quarter left to play, the undermanned Pakenham made its charge in the fourth – outscoring the Gators by 10 to snare a key win.
James Webster led the way for the Gators with 22 points, 6 boards and 3 steals while for the Warriors in-form guard Nick Ross finished with 22 points of his own to go along with 9 boards, and Trent Lee finished with a double-double of his own – 11 points and 12 boards to go along with 5 assists and 2 steals.
With the result, the Warriors sit second on the Division 2 ladder in a log-jam that features the top six sides. They're a percentage ahead of Craigieburn, and one win ahead of both Mildura and Southern Peninsula.
Simo Pajdic's Youth League Division 2 Men sit atop their competition – a game and percentage clear of the Casey Cavaliers after a hard-fought four-point win over their local rivals on Saturday night, 75-71.
The Warriors led by a point at the end of the first, but trailed at the main break before making their second half charge.
Lee Belton led the way with 17 points and 4 boards, while James Magrath and Michael Jok had 12 points apiece.
In the other game of the weekend, the Warriors' Youth League Division 2 women's side lost by seven points at Cardinia Life to the Southern Peninsula Sharks, 68-61.
Ellie Coutts was once again outstanding for the home side, finishing with 17 points (on better than 60 per cent shooting), 14 boards, 4 assists and 2 steals.
This Saturday, the Warriors will hold their own 'Pink Sports Day' at Cardinia Life to raise some much-needed funds for Breast Cancer Network Australia (BCNA).
The initial push for the event was the news that Lisa Pollard, the 33-year-old sister of Warriors Youth League Women's head coach Darren Thomas, had just been diagnosed with breast cancer.
This Saturday will be a triple-header featuring each of Pakenham's three Big V teams and they're inviting their biggest fans to come along and cheer them on – to dig deep and raise some much-needed funds.
The day will kick off at 4pm with the Warriors' Youth League Women's team taking to the court to battle the Western Port Steelers.