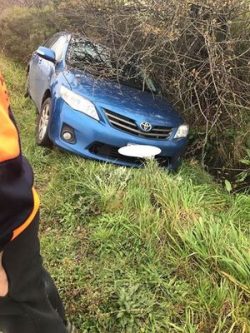 By Bonny Burrows
Two Cranbourne men have been labelled heroes after coming to the aid of a woman having a seizure behind the wheel on Cardinia Road on 3 July.
Aaron Grant, 22, and Arley Jordan, 17, were driving along the busy 100 kilometre per hour road between Cardinia and Officer about 1pm on Monday when they noticed a car stationary in the middle of the road.
On approaching the blue Toyota Mr Grant tooted his horn, hoping to raise a reaction from the other driver, whose car had started to drift back towards Mr Grant's vehicle in reverse.
"Knowing that she was around 10 to 30 centimetres away from the front of my car, I decided to slam my car into reverse hoping to keep a safe distance," Mr Grant said.
A crash between the two cars was avoided but the woman's vehicle continued to drift backwards, landing in a ditch.
Mr Grant and Arley sprang into action.
Despite the panic they were feeling, the pair created a roadblock with their vehicle, called triple-zero and ran to the woman's aid.
"I saw the woman slumped over in her seat, and then I saw a seven-year-old child trying to open the car door," Mr Grant said.
Upon seeing the boy, Mr Grant's "heart just dropped".
"Once you know a kid's involved you care a little bit more. His poor mum was having a seizure and he was stuck in the car," he said.
Fortunately, with the assistance of other passing motorists and thanks to the quick arrival of police and ambulance services, the woman was OK.
The men's quick thinking, along with their decision to not move the woman has been hailed as possibly life-saving.
A social media post on the incident has attracted more than 1200 likes and 120 comments, commending the men on their efforts.
But Mr Grant said he and Arley were only doing what anybody would.
"I've always been taught when someone has a seizure, don't interrupt them as much," he said.
"And if we weren't there, there were other cars that may have stopped a minute later."
The Cranbourne man also praised the seven-year-old passenger for being "very smart" during a crisis.
"He answered all our questions. He was very helpful," Mr Grant said.
He also thanked others, including an unnamed nurse who stopped to offer assistance.
"Without the help of those people who stopped, we would have struggled to look after the seven-year-old emotional child as well as assisting the driver that was in a bad way," Mr Grant said.
"So I thank you for stopping, and the assistance you gave."
It is understood the woman, whose name has been not been revealed to protect her privacy, spent two nights in hospital but is recovering well.
She was due to return home at the time of going to press.