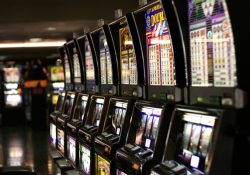 By Bonny Burrows
Protesters against Officer's controversial poker machine proposal, including a gambling expert, have quizzed the local community on its gambling knowledge in a bid to understand the "damage" the 60-poker machine pub could do.
With the possibility of the pub and gaming venue being approved by Cardinia Shire Council for 2 Station Street, Officer, anti-gambling group Bad Bets Australia conducted a face-to-face survey of 135 Officer residents.
Monash University academic and leading gambling expert Dr Charles Livingstone said while 47 per cent of respondents knew someone "personally hurt" by gaming machines, the results from the survey revealed there was still a lot for the local community to learn.
While almost three quarters of residents understood poker machines were the second leading cause of crime in Australia after the illegal drug trade, many were unaware just how much money was lost to the gaming machines each year.
Dr Livingstone said the survey revealed 85 per cent of the Officer community had underestimated the amount by about half.
"Research usually shows that Australians don't fully appreciate just how much is lost on poker machines, every single year. More than 11 billion dollars is lost to this addictive product, with about half of the losses coming from people who have developed an addiction," Dr Livingstone said.
The link between gambling and family violence also shocked participants, with just 21 per cent aware that there was a correlation between poker machines in a suburb and the rate of domestic violence in that area.
Dr Livingston said for "a long time", people have possibly assumed there might be a link, but there was now a study from the Australian National University to prove it.
"It clearly shows more pokies in a suburb means there will be more domestic violence in that suburb."
With Cardinia Shire Council actively taking a stand against family violence with its Together We Can campaign, Bad Bets Australia spokesman Rohan Wenn said it was essential this application was rejected.
"If you're against domestic violence, you must oppose more poker machines," Mr Wenn said.
The State Government announced on 7 July the number of gaming machines in Victoria would be frozen for the next 25 years.
Under the changes, the number of gaming machines in Victoria will remain capped at 27,372 and the maximum number of gaming machines in a single venue will be frozen at 105.
"Not a single extra gaming machine will be allowed in Victoria for the next 25 years, helping limit gambling-related harm in our community."
"These reforms also provide certainty to pubs, clubs and hotels across Victoria, and have been informed by an extensive review that included more than 200 public submissions," Gaming and Liquor Regulation Minister Marlene Kairouz said.
Cardinia Shire Council is yet to decide on the local application's outcome.