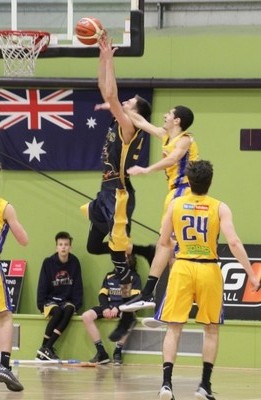 By Russell Bennett
Pakenham's Big V basketball Youth League Division 2 men's team recovered from a sluggish start to defeat Maccabi in a battle of the Warriors at 'The Colosseum' at Cardinia Life on Saturday night.
Maccabi led 30-22 at the half after a some early struggles by the home team – particularly when it came to turnovers and shot selection – but Simo Pajdic's men recovered after the main break to come away seven-point victors, 63-56.
The home side shot just 8-35 from the floor in the first half – getting less than a quarter of their shots to fall.
But they upped their game in the second with Tom Greer leading the way with 15 points and 12 boards, while big Lewis Newman finished with a double-double of his own with 12 points and 10 boards and Lee Belton and Tyrone Tonkin finished with 13 and 14 points respectively – including six combined threes.
On Saturday night at the Toyota Hothouse in Mildura, Pakenham's Division 2 men's team suffered its first blowout loss of the season – a 20-point defeat to the hometown heat, 97-77.
The result reversed the 80-66 result Pakenham's way back in Round 5.
Rob Maartens returned to the Warriors' line-up for the first time in just under a month and top-scored with 20 points – including 6-11 from downtown – while Brad Bridgewater finished with a near double-double (8 points, 13 boards) in the absence of skipper Ben Gaze. Young Cody Fredrickson shot the ball particularly efficiently from the field, finishing with 16 points and 4 boards.
By contrast, on Sunday Darren Thomas' Youth League Women's side enjoyed a whopping 25-point win over the Whittlesea Pacers at Mill Park.
The Warriors were simply superb – led by Ellie Coutts with a stat-sheet stuffing 14 points, 8 boards, 5 assists, and 4 steals; Tyla Scorah with 14 points and 3 steals; and Beth Quadara (9 points, 9 boards and 4 steals) and Emily Patterson (8 points and 11 rebounds) with near double-doubles of their own.
Brent Russell's senior men's team will be looking to atone when it faces the Gators in Altona this Sunday from 3pm, while Pajdic's youth men's team heads to Cranbourne on Saturday night to face local rivals the Casey Cavaliers from 6pm.
Thomas's youth women's team will host the Southern Peninsula Sharks at Cardinia Life from 6pm on Saturday.