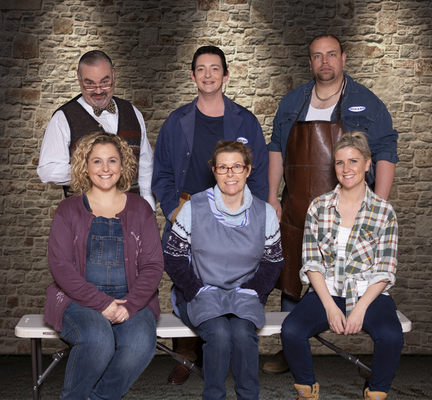 By Brendan Rees
A dedicated group of performers from Casey and Cardinia are putting the finishing touches to their latest huge hit Broadway production.
From this Saturday, the crew from Cardinia Performing Arts Company (CPAC) will perform the musical Kinky Boots which follows the true story of a failing show company.
Lee Geraghty of the CPAC says the cast have been working hard with a brilliant mix of costumes, orchestra, and choreography all set for the opening night on Saturday 24 August at the Cranbourne Community Theatre.
The show features the incredible score by Cindi Lauper and book by Harvey Fierstein.
Ms Geraghty says director Scott Hili's eye for detail has been amazing, who also helped coordinate in the creation of costumes audiences will see on stage.
"His love of feathers and sequins even more amazing," she says.
"I thank him for all that he has done. I would also like to thank our talented musical director Po Goh who has worked tirelessly with the cast and band to bring the whole production together," Ms Geraghty said.
"Both the cast and orchestra sound fantastic. We welcome back our choreographer Kristy Hamshare who had the unenviable task of choreographing men in heels and I must say with great success.
"Huge thanks once again to our set builders Ash and Frank for all their hours of hard work to bring to life Scott's creative set design," she added. "Nothing is ever too hard for them. They are both amazing and we are truly blessed to have them!"
Ms Geraghty thanked the behind the scenes crew have also worked so hard to put the show "seamlessly together."
"Finally, I would like to thank you – the patrons – for your ongoing support of CPAC; without you, the audience, there is no show. We thank you for your continued patronage so we can continue to do what we all love doing. Here is to many more years of bringing good value entertainment to you all," she said.
The CPAC's next show will be their February/March 2020 production of the award-winning Broadway sensation, Mamma Mia with Ms Geraghty back in the director's chair.
Auditions are coming up shortly and bookings are open.
Stay up to date with with future shows and auditions, by liking the group's Facebook page Cardinia Performing Arts Company or checking out the website: www.cardiniaperformingarts.com.
Kinky Boots will be performed from 24-31 August and 1, 6, 7 of September.
Adult tickets: $45.00. Children 15 and under: $35. Venue: Cranbourne Community Theatre, Brunt Street, Cranbourne.
Show times are 6.30pm, 2pm and 8pm. All enquiries: 0407090354 or email: rrene70@hotmail.com
Bookings essential: https://www.trybooking.com/book/event?eid=501453&