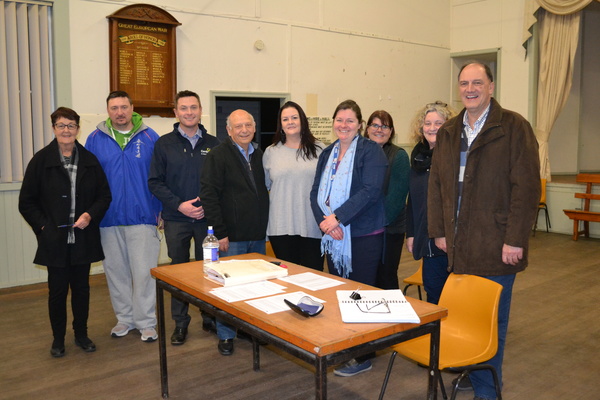 By Andrew Cantwell
The Officer community was put to the test this week to see if it was more than a collection of rapidly expanding housing estates – to see if there was still the beating heart of a community in what was once a quiet country town.
At issue was the Officer Public Hall and whether Officer residents would rally to reform its management committee, which – through personal circumstances and people moving on – was no longer functioning as it should.
And because the hall is on Crown Land managed by the Department of Environment, Land, Water and Planning (DELWP), the danger was that the department could be forced to close the hall.
At a special meeting called Wednesday night 21 August – with an overcast sky and cold wind blowing – Officer's community spirit rose to the challenge.
It wasn't the biggest meeting the hall has ever seen, with just over a dozen attending – but it was perhaps the most significant in a number of years.
Chaired by Mike Petrovich, of the Officer Community Association, and addressed by Sarah Wordsworth, from DELWP, the duties of the committee were listed briefly and clearly.
And when the invitation was given to fill out nomination forms, the people responded – hesitantly at first, but committed none-the-less.
The hall is modest but well used, by dance groups, a theatre group and a church group among others, and even for weddings and parties on occasion.
A karate class was just finishing up as interested residents milled outside waiting for the meeting time to tick around.
Mike Petrovich said the Officer Community Association used to meet there, too. But because they sometimes had trouble finding available bookings they'd taken to meeting at the footy clubrooms.
Regular bookings for the loyal following is a good problem to have for the new committee, once formed.
But as the rapid growth continues, booking availability could also be problem for the future.
No doubt, Officer's community spirit will rise to that challenge, too.