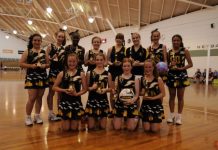 AT the end of just its third year in this age group, Gippsland Storm Elite Development Netball Club has broken through to claim its...
By Marc McGowanTHE Pacific School Games provided many of Australia's finest junior athletes with their first taste of international competition. And the experience is set...
Left: Pakenham's Michael Blackmore has won a competition to play footy at the MCG on grand final day. 21643 By Paul PickeringONE Pakenham youngster...
Top right: Festive racegoers, back, Sarah, Mel, Jen, Sarah, Alayne, front, Karen, Renee and Voula from WHK Armitage Downie.PAKENHAM hosted its annual Christmas race...
Long-time Pakenham Racing Club gate man Terry Egan was happy to welcome Bundy girls Mel and Chloe to the mounting yard at Pakenham's well-attended...