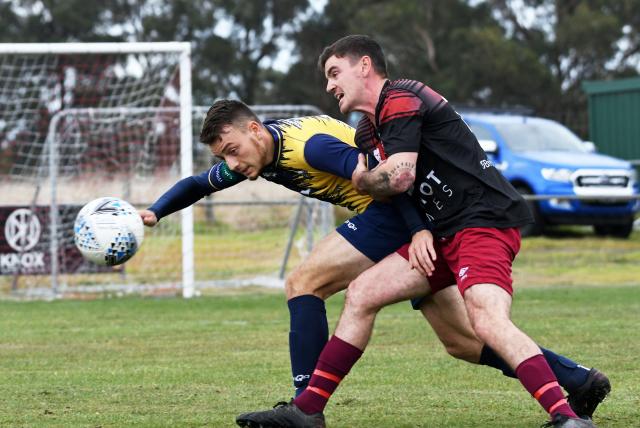 By David Nagel
Bragging rights have been split between Bunyip and Pakenham after the local rivals played out a typically competitive 1-1 draw at IYU Reserve on Saturday.
The stage was set for a hard-fought encounter in the early stages of the contest with Albert Mambo (Pakenham) and Ed Walker (Bunyip) both shown yellow cards within three minutes of the opening whistle being blown.
The competitive start soon turned into unbridled joy for the visiting Bunyip team when Macauley Howard found the back of the net for just his third goal for the season.
But the Strikers celebrations were short lived, with Dusko Erkalovic calmly converting a spot kick after 16 minutes to answer Howard's goal from six minutes earlier.
Bunyip received several cautions in the first half as the volatile nature of the game started to rise.
Declan Pepping and Ryan Mackie were both shown yellow cards for the Strikers, adding to Walker's earlier booking.
Neither team could penetrate their opponent's strong defensive unit with some strong tackles a feature of the opening minutes of the second half.
Simmering tensions rose to almost boiling point in the 61st minute of play when Bunyip's Dean Schembri was given his marching orders after being shown a red-card.
Pakenham couldn't make the most of its one-man advantage as time ticked into a frenetic last 20 minutes of play.
A total of four yellow cards were shown in the concluding stages of the match with Howard and Liam Lenders both booked for Bunyip, while Stephen Ngoneh and coach Liam McCafferty entered the referee's notepad for United.
This dour struggle follows a 1-0 victory for Bunyip in round three, with a controversial finish adding to the tensions between the two clubs.
Bunyip has a chance to launch into the top-half of the table this week, when it travels to South East United, while Pakenham can rest its aching bodies with the bye.
Pakenham's next outing will take place at home, IYU Reserve, against Mentone at 3pm on Saturday 2 July.
MEN'S STATE LEAGUE 5 SOUTH
RESULTS – ROUND 14
Pakenham United 1 v Bunyip 1, Barton United 6 v Rosebud 1, Mount Martha 1 v Casey Panthers 4, Aspendale 1 v Hampton Park 2, South East United 0 v White Star Dandenong 3. Mentone – Bye.
LADDER
White Star Dandenong 32, Barton United 28, Casey Panthers 24, Mentone 22, Hampton Park 19, Bunyip 18, South East United 14, Pakenham United 13, Rosebud 8, Mount Martha 7, Aspendale 5.
FIXTURE – ROUND 15
Mentone v Aspendale, Barton United v White Star Dandenong, Hampton Park v Mount Martha, Casey Panthers v Rosebud, South East v Bunyip. Pakenham United – Bye.