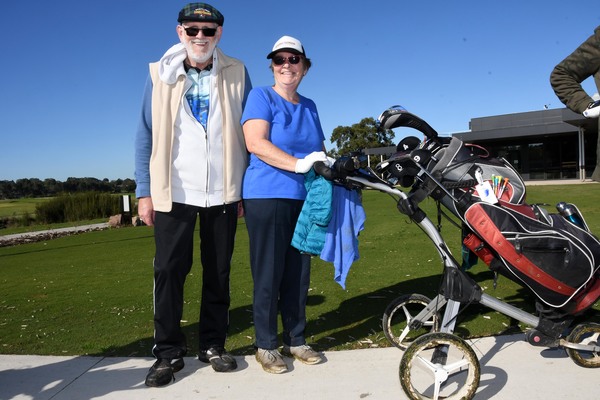 By Sports Editor Russell Bennett
Since its rebranding and re-launch as the Deep Creek Golf Club in late October last year, the former Pakenham Golf Club has been through countless peaks and troughs.
It's no secret that large amounts of money were spent on the addition of two new holes, a new practice facility, a cafe, a new clubhouse, pro-shop, function rooms, and offices in an effort to modernise the course and open the eyes of a new generation of local golfers.
And that effort was starting to reap serious rewards… until the Covid-19 pandemic struck, stopping the sporting world in its tracks earlier this year.
"There's been a whole set-up and clear expense to get the facility to where it needs to be – but you're happy to dig that hole because you know that, hopefully, you're going to be able to backfill it with what's to come," said a particularly upfront Haydn Thompson, Deep Creek Golf Club's CEO, as he sat down at the new clubhouse recently to explain just what the club has been through in the past six to seven months.
"You're happy to take that educated gamble – that we'll be spending money that, under normal circumstances, we wouldn't otherwise to get things set-up, but we have to set them up because they're income streams – things like the cafe, driving range, and new function rooms.
"When you look at it, we've got these extra income areas that will turn over money once people start utilising it. That was the expectation from day one, which happened."
Until it stopped. Completely.
"The business was breaking even, and making a profit, and things were really looking up in March until 'Bang!' – overnight, the lights were switched off," Thompson said.
"Governments struggle to come to grips with pandemics – let alone community-based businesses, or any business for that matter.
"The word for 2020, I think, will be 'unprecedented'."
So, Thompson and his staff at Deep Creek were left with no alternative but to adapt, and adapt on the run.
And now, with the coronavirus restrictions gradually easing and golfers returning to the greens and fairways earlier this month, there's genuine light at the end of the tunnel once again.
"In March, the complex was shut, immediately, in terms of being a licensed venue so we adapted," Thompson said.
"Golf was still on for a little while there, and then on a Friday night we got the word that golf needed to cease, based on the advice from government and the sport's governing body.
"I got an email late on the Friday night – late in March – that the recommendation was for all Victorian clubs to close as soon as possible."
The restaurant and cafe arm of the business was still permitted to sell takeaway, so they adapted on the run – brainstorming the possibilities.
"We had a two-week period where we had real uncertainty of what the business was going to look like – information was changing every day, so it was really important to relay that as well as we possibly could to our people, our employees," Thompson said.
"There was no certainty in it, but we kept pushing forward and gave the takeaway food a go.
"Fortunately, JobKeeper applied for a number of our staff who were with us before our rebranding, but on the flipside we did still have a number of staff who weren't eligible.
"So the question then became about how we could provide for our people who don't have the security of JobKeeper."
Once the golfing arm of the business closed due to Covid-19, the focus turned straight to the welfare of the club's staff, and then just how Deep Creek could push forward.
"It wasn't about making money at that point – it was about covering our overheads and hopefully breaking even," Thompson said.
"The business here was a microcosm of the national problem, so we wanted to do everything possible to stop the spread and make sure everyone was safe, but then we had to ask ourselves, if we weren't operating, were we financially viable and would we come out the other end?"
From there, the club – through its takeaway food arm – pushed forward with initiatives like 'chicken parma night', 'pasta night', and 'burger night'.
Customers can pre-order their meals and arrive at the Cameron Way car-park to pick them up.
It's been a roaring success – selling between 300 and 350 chicken parmas on a Thursday night, with the burger nights and pasta nights also covering their own.
"We're in the position now to be able to push through and really look forward to what's to come again – to justify to ourselves, and the business, that we can keep it going," Thompson said.
"It was all about that first battle for the club."
While the course was shut to members and the public alike, its employees still worked tirelessly – not only Thompson and his staff at the clubhouse, but also course superintendent Rick McHugh and his staff.
And they've played a massive role in the course's eventual reopening.
"We didn't know if we were going to emerge out the other side of this thing, after the money we spent on the rebranding and upgrade of the facility in the first place, but we've received incredible support from the council, local residents, businesses, and of course our members," Thompson said.
While there are clearly still restrictions in place – for good reason – golf is once again back at Deep Creek.
"Going from being closed for six weeks and running takeaway – just making sure the business could survive – to having golf come back for groups of four, albeit limited in time because it's one tee start in 10 minute intervals, was a big change," Thompson said.
"It's not quite golf as we know it, but it's kind of a blessing that we've got this time to get our head back in the game.
"We're getting stuck back in with the resources we have, but it's just great to have the game back again."
Golfers at Deep Creek can arrive no more than 15 minutes prior to their pre-booked tee time. While the pro shop is open, only four people are allowed in at any one time, and only one person can ride in each cart – unless two players live together.
Preferred lies can be taken in bunkers as there are no rakes, and there are no flags on the greens so holes are cut in central positions. The driving range and complex remain closed for now.