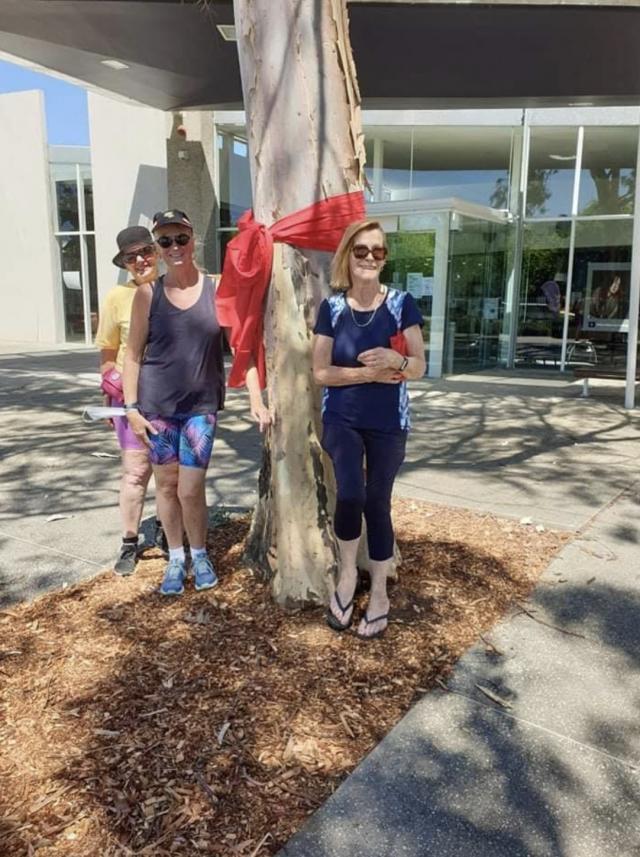 By Gabriella Payne
It seems a couple of grinches were out and about in Pakenham's Lakeside estate around the festive period, as colourful Christmas decorations put up by residents were vandalised not once, but twice at the end of last year, leaving locals disheartened and frustrated.
Wendy Andrews, the president of the Lakeside Residents Group, said that members had been getting into the Christmas spirit and dressing up local streets for a few years now – with some of the decorations being paid for out of their own pockets.
"We have been putting up the ribbons on trees and the lights in shop windows for about four years now – generally they are very well received," Ms Andrews said.
"The ribbon bows we pay for ourselves and one of our committee [members] Hiske and a couple of helpers put them up on dozens of trees on the entry streets in lakeside and lakeside south of the railway."
Having decorated numerous local shop windows with Christmas lights while also providing the red, festive tree ribbons with their own funds, the members of the Lakeside Residents Group certainly brought a spark to the local streets – but alas, vandals decided to meddle with the displays.
"We hoped they would enjoy the festive spirit we had brought to the area, however some people decided to take a number of [the red ribbons] down and tie them together across the entrance to Lakeside Boulevard one evening," Ms Andrews said.
"A second vandalism episode happened just after Christmas and prompted us to remove those ribbons.
"This is so frustrating as there are few options for us to brighten up the area for Christmas and most people really appreciate our efforts."
Ms Andrews explained some locals had been confused about the lack of decorations throughout Pakenham (before the vandalism occurred) and had "accused the council of being Scrooges" – but there were community wellbeing support grants (of up to $1000) that groups could apply for and use towards Christmas decorations in their area – which is what their organisation had made use of in the past.
"We were able to install lights in shop windows in Lakeside and Lakeside Square in December – these lights were purchased using two separate council grants," Ms Andrews explained.
She said that while it was disappointing to have had to take the ribbons down, they hoped residents had "enjoyed them" while they were up.
Hopefully the vandals are nowhere to be seen next festive season!