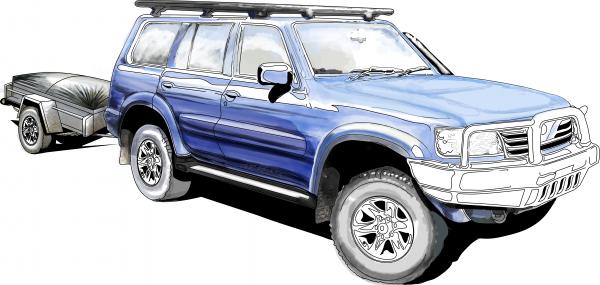 By Shelby Brooks
Detectives from the Missing Persons Squad have arrested a man as part of the investigation into missing campers Russell Hill and Carol Clay.
The 55-year-old Caroline Springs man was arrested about 5.30pm Monday 22 November and was interviewed by police on Tuesday morning.
Police confirmed they seized the man's Nissan Patrol after he was arrested at a campsite near Moroka Road, Arbuckle Junction.
The arrest involved members of the Special Operations Group.
Jetstar released a statement stating one of their employees had been stood down.
"Jetstar has been advised by Victoria Police that one of its employees is under investigation for a serious crime and will work to assist in this due process any way we can. As a matter of course, the employee has been removed from duty as a result of their arrest," a Jetstar spokesperson said.
Carol, 73, and Russell, 74, were last heard from on 20 March 2020 when they were camping in the Wonnangatta Valley.
Russell left his Drouin home on 19 March, collected Carol from her home in Pakenham in his white Toyota Landcruiser, and then travelled via Licola spending one night at Howitt High Plains before heading into Wonnangatta Valley on 20 March.
Russell was last heard from on 20 March via HF radio stating he was at Wonnangatta Valley in the Victorian Alps when he made the call.
Campers found Russell's vehicle with signs of minor fire damage at their campsite, which was completely destroyed by fire, near Dry River Creek Track in the Wonnangatta Valley on 21 March.
Earlier this month, police released images of a blue four-wheel-drive – believed to be a mid-to-late-1990s model Nissan Patrol – taken by a safety camera in the area at the time Russell and Carol went missing.
Witnesses reported a number of sightings of the vehicle including near the campsite, with police yet to track down the driver or exclude them as a person of interest.
Police believe the pair may have had an altercation with another camper, possibly the driver of the blue 4WD.
It was towing a trailer and heard performing a 20 to 30-point turn on a narrow track the night the pair vanished.
The car is a Series 1 and built between 1997 and 2001 and had an awning on the side branded "KINGS" and a PVC water pipe on the driver's side.
Apparently, Russell's sister Jill knew the pair were in a secret relationship despite Russell being married.
She believes that was part of the reason they travelled remotely together for their trips.
Carol was an active member of the Pakenham CWA and a former state CWA president.
They have declined to comment on the arrest.
"In regards to the current news item concerning Carol Clay, we regret that we cannot make comment and ask that you contact CWA Victoria Head Office," a Facebook post reads.
Premier Daniel Andrews said it had been a "very difficult couple of years for all of us".
"When some of these tragedies happen, what may well be a tragedy, it just brings home all that we've done, all that we've given, and the things that matter most, and its safety," he told reporters.
Police said the investigation into the matter remains ongoing and further information will be released when operationally appropriate to do so.
Anyone with information is urged to contact Crime Stoppers on 1800 333 000 or submit a confidential crime report at crimestoppers.com.au.
-With AAP