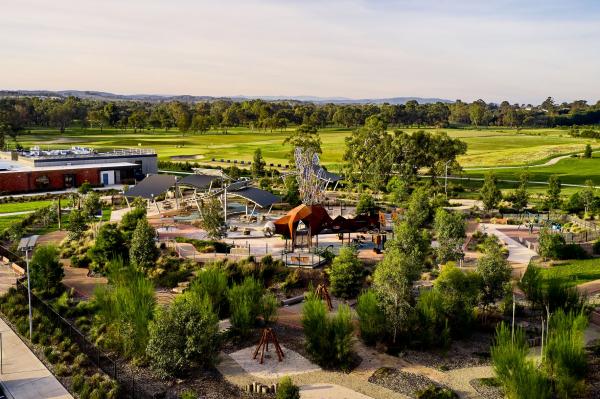 By Gabriella Payne
Pakenham's Deep Creek Reserve is a popular eco-friendly spot with the locals, but the sprawling reserve can now also add 'award winner' to its title.
The sustainable educational and recreational space was named as the winner of the 'Industry Leader – Sustainable Places' category in the 2021 Premier's Sustainability Awards on Tuesday 23 November – a fantastic result for all those involved in the project.
Minister for Energy, Environment and Climate Change Lily D'Ambrosio announced the many winners of the 2021 awards in an online awards ceremony and said that it was fantastic to see so many innovative projects paving the way forward to a greener future in Victoria.
"From renewable and innovative technologies to vibrant community hubs, nature regeneration and conservation efforts, and recycling and waste management innovations, this year's Premier's Sustainability Award winners have set the standard for sustainable innovation," Ms D'Ambrosio said.
"I warmly congratulate everyone who submitted an entry to this year's awards; every submission was testament to the passion and drive of many Victorians to ensure our environment is clean, healthy, and safe for years to come."
Deep Creek Reserve has become a leading voice for environmental sustainability in the Cardinia Shire and is a welcoming space, used by people of all ages, that has made use of a once forgotten corner of the shire.
What used to be 48 hectares of farmland was transformed into the Deep Creek Reserve by the Cardinia Shire Council, together with the Cardinia Environment Coalition (CEC) and Deep Creek Golf Club, and it has now become a thriving environmental precinct in the local area.
Deep Creek Reserve is home to a range of forward-thinking sustainable features, including a cafe with a waste reduction focus, a compost corner, Indigenous plant nursery and more – which no doubt made it stand out among other finalists.
The reserve also features the first specialist STEM-based centre in the east of Victoria that gives thousands of school students the opportunity to participate in environmental education excursions.
Cardinia Shire Mayor Jeff Springfield said that it was "wonderful" to see the community precinct recognised with this sustainability award.
"It's absolutely fantastic," Cr Springfield said upon hearing the news.
"It's a testament to the fantastic work that the Cardinia Environment Coalition and all the other stakeholders have put into developing the reserve."
Winners at the Premier's Sustainability Awards were awarded across six categories aligned to the United Nations Sustainable Development Goals.
In each category a 'Community Champion Award' recognised individuals and small organisations, whereas the 'Industry Leader Award' celebrated medium and large organisations driving a sustainable future – like that of Deep Creek Reserve.
As well as the local sustainability precinct, this year's winners included an Ambulance Victoria paramedic for recycling uniforms for those in need, a business that developed world-leading software connecting apartment residents to a single rooftop solar system, and a Melbourne school on its way to net zero emissions by 2030, achieving a 35 per cent reduction in 2020.
Winners were chosen by a broad range of independent environmental experts with sustainability and industry expertise.
To find out more about this year's finalists and winners, visit sustainability.vic.gov.au/psa-2021-winners