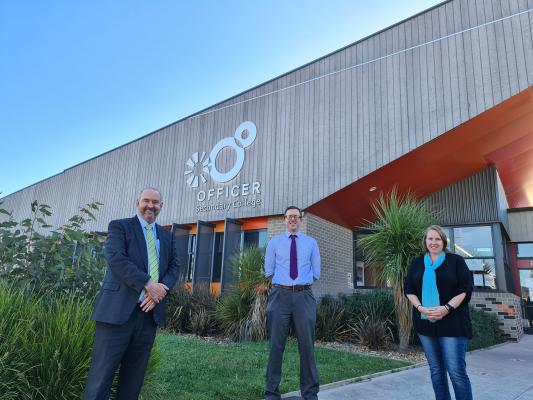 By Danielle Kutchel
After a five-year battle, students at Officer Secondary College may finally be able to catch a bus to school.
The State Budget, announced on Tuesday 24 November, allowed for two dedicated school bus services, one in the morning and one in the afternoon peak, providing students in Pakenham and Officer a connection to Officer Secondary College.
A time frame for the commencement of the service is yet to be determined.
"'This is such welcome news for our Officer Secondary College students and families, giving them more options to get to school quickly and safely," said Bass MP Jordan Crugnale.
The promise of the new transport option has been met with cautious optimism by those who have fought for it for so long.
But the devil is in the details, according to school council president Kerri Sherry, who said staff and parents were waiting anxiously for the details of the new bus service, including its route and scheduled times.
She said it was still unclear whether the service would simply run between the two high schools or whether it would also service the wider community, adding that there is a desperate need for a bus service through Officer's growing housing estates.
Nevertheless, the announcement was welcome news, with Ms Sherry and school leaders saying it would benefit families and students.
Principal Christian Woodcock said the news was positive for the whole community.
"It's fantastic news for the community, it gives everyone an opportunity to get to and from school in a safer way."
Member for Gembrook Brad Battin, who has been supporting the school's calls for a bus in Parliament, labelled the move "a good start".
"I'll be celebrating when I see the bus driver driving around the corner," he said.
"It's been listed [in the budget] for starting within the next four years, but with no other details.
"The government have to come out now and confirm 100 percent that this bus or buses will be available for students for Term 1, 2021.
"The school community has worked so hard to make this available, and they don't want to be led up the garden path for another few years."