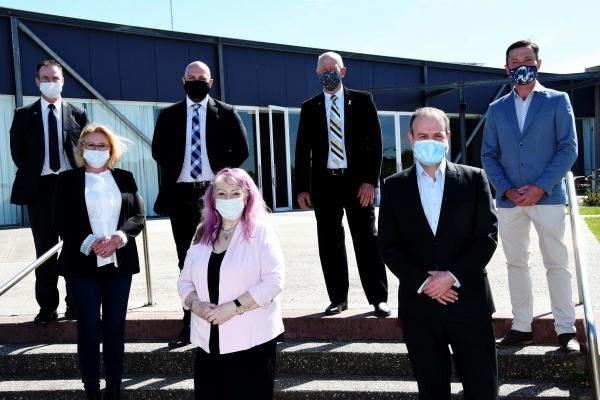 By Mitchell Clarke
Three new faces have been voted in to represent the Pakenham and Officer communities on council for the 2020-24 term.
Tammy Radford, Jack Kowarzik and Stephanie Davies will join incumbent councillors Brett Owen, Collin Ross and Carol Ryan in serving the Beaconsfield, Officer and Pakenham growth corridor.
Beacon Hills councillor Brett Owen secured the most convincing win of the election, receiving a whopping 4856 first preference votes in his fifth campaign in a row.
Mr Owen told Star News he received the barrage of support after running a "very positive campaign".
"I definitely voiced that I was the only local candidate to live in the ward and I think people really responded to that. They wanted a representative who experienced their day to day lives," he said.
"After 15 years on council, I've demonstrated that I do my best in representing residents and advocating on their behalf and I think that shone through here."
Long standing councillor Collin Ross was re-elected on the new Central Ward, after receiving the majority of the vote – 50.30 per cent.
A current expenses investigation into the popular councillor's spending didn't hinder his re-election hopes.
Mr Ross said he felt humbled that voters again put their confidence and trust in him.
"I always feel confident that l had done my best to work hard and communicate what l stand for and my strong track record of delivering on my promises," he said.
"I always try to run a positive campaign speaking about past results and future promises. I think others seemed to concentrate on criticism of others to lift themselves up."
Mr Ross secured 3494 votes to beat candidates Naomi Horsley, Brijal Parikh and Chandon Fernando, who received 2610, 470 and 372 respectively.
It wasn't a great start to the campaign for Carol Ryan in Henty Ward, after 10,000 promotional pamphlets were distributed to the wrong wards.
Despite the stuff up, Ms Ryan received enough support to beat seven candidates, scoring 1535 first preference votes, just in front of newcomer Andrew Cook who secured 1481.
Former councillor Kate Lempriere's shot at a return to council was short lived, only managing to grab 877 votes.
With preferences distributed, Ms Ryan beat Mr Cook by a total of 676 votes.
Perhaps the biggest shock of the entire election was the ousting of Michael Schilling, who was widely regarded as one of the most active candidates.
Mr Schilling, who served on the 2016-20 council, received the most first preference votes (2195) in Toomuc Ward, beating Stephanie Davies (1714) and Travis Hamilton (1019).
But with unfavourable preferences against him, Mr Schilling's hopes for a second term were cut short, with local mum Stephanie Davies receiving 66 more votes to give her the win.
Ms Davies said she was "humbled, surprised and excited" to have been chosen to represent the ward.
"I still cannot believe it," she told Star News.
"I love my life here in Pakenham, and feel I have the skills and experience to serve my neighbours well."
Officer Ward was won by newcomer Tammy Radford, who said it was a long-time goal to serve on council.
Ms Radford was one of 10 candidates vying for the chance to represent one of the fastest growing communities in the country.
She received 24.55 per cent of the first preference vote ahead of former Maribyrnong councillor Daniel Cumming, who won 18.53 per cent. With all other preferences distributed, Ms Radford obtained 58.14 per cent of the entire Officer vote.
"It's really exciting, it's something I was very passionate about pursuing," she said.
"I know that I can represent and advocate for the community, so I'm very happy that they've entrusted me with this responsibility."
Young father Jack Kowarzik is set to bring a youth perspective to the council, after he won the most tightly contested vote against a former mayor.
Mr Kowarzik received just 56 votes more than former Maribyrnong mayor – and Cockatoo resident – John Cumming, to take out the Pakenham Hills Ward.
He said he was "absolutely honoured" to be elected and thanked residents for their trust and support.
"It's a real privilege to be able to represent the community and town that I love," he said.
"If you see something that needs changing, I think you have an obligation to put your hand up and get involved."
Former councillors Graeme Moore, Ray Brown and the most recent mayor, Jeff Springfield, were all re-elected to represent the Cardinia Shire's rural communities.
A mayor and deputy mayor will be elected on 23 November during the first council meeting of the new term.