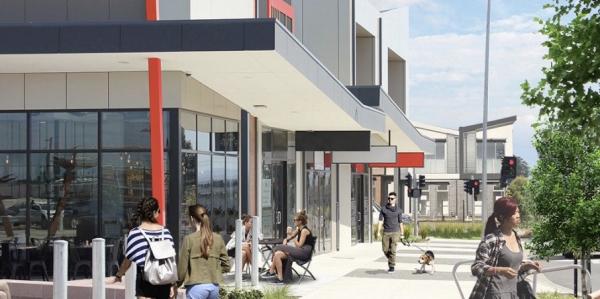 By Jessica Anstice
Officer residents, who were promised a town centre upon purchasing their homes, are becoming impatient.
While a town centre in the heart of Officer has been on the cards for a number of years now, construction is yet to commence.
Part of the town centre, called One Centre Square, is set to be built on a vacant block of land east of Siding Avenue.
The planned state-of-the-art commercial development has already sold and leased 60 percent of its facility to businesses.
Confirmed tenants include a gym and pilates centre, bottle shop, massage and nail salon, hairdressers, laundromat, doctors clinic, dentist, pharmacy, grocer and a pizza shop.
"During this evolving Covid-19 outbreak, we are acting on guidance from public health authorities to maintain a safe environment for everyone," the One Centre Square website states.
"We are still well on track to commence construction as soon as possible."
With no confirmed start or completion date, residents have become tired of waiting.
Officer resident, Bec Beverley, said she was told the town centre was going to be similar to a Westfield with a cinema when she purchased her block of land.
"Those plans keep changing. It would be nice to have these kind of things however we are not really fussed on it as Fountain Gate is only 15-20 minutes away," she said.
"But it's one of those things – I'll believe it when I see it."
Across the road, Cardinia Shire Council has plans to build a 'major activity centre' where there will be employment opportunities, as well as shopping, recreation and community facilities.
The council's liveable communities general manager Tracey Parker said the framework is in place for Officer to become an even better place to live, work and visit.
"Officer town centre has been earmarked as a future major activity centre, which is a designated focal point for shops, services, employment, housing and public transport," she explained.
"The Officer Precinct Structure Plan (PSP) is the planning framework which identifies proposed locations of business, residential and other uses in the area.
"The Officer PSP was recently reviewed and amended in November 2019. The revised PSP was added to the Cardinia Planning Scheme in March 2020."
Ms Parker said recent changes to the plan aim to attract investment and jobs to Officer town centre through more simplified and flexible planning controls.
It is estimated that 5500 jobs will be created through the future precinct when it is developed.
"The vision for Officer town centre, as outlined in the PSP, is for a vibrant and functional place with a diverse range of development including retail, food and beverage businesses, entertainment, commercial and professional services, recreational facilities as well as higher residential dwelling densities within and around the centre," she said.
"A high level of pedestrian activity surrounding Officer Railway Station will be supported by a range of nearby community facilities with council investigating the potential for a library, community hub and future bus interchange.
"Council looks forward to working with the community and stakeholders in realising the vision for the Officer town centre."
However, when Officer residents were asked what they would like in the town centre – the overwhelming response was a cinema and a retail giant such as Kmart, Costco or Ikea.
"Cinema and a Kmart would be awesome but I don't see it being likely," resident Missy Bennett said.
"A microbrewery and privately owned cafes and restaurants with atmosphere would be sweet."
Other ideas included a butcher, bakery, florist, takeaway shops, library, community hub, indoor sports and aquatic centre and even X-Golf and ten pin bowling.
"Some good restaurants and cafes would be good because we basically have to go to Pakenham or Beaconsfield," resident Tahlia Starrenburg said.
While residents were brainstorming ideas, some were skeptical about the development going ahead.
One resident, Kathy Symons said, "I'd like it to be built, not just a pie in the sky promise."
Resident Reece Campbell suggested somewhere nice to go for dinner and a drink, as well as a cinema that was allegedly promised years ago.
"They promised years ago a cinema but that seems a long shot," Ms Campbell said.
"They made a promise for One Centre Square but at 60 percent sold I'm skeptical they will deliver.
"A completion date would also be great."