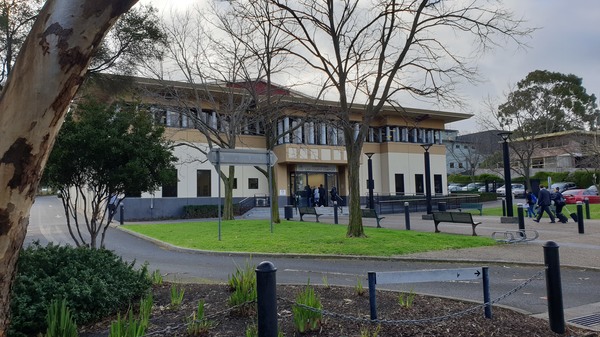 By Cam Lucadou-Wells
A Pakenham ice-user has pleaded guilty to a string of charges, including evading police after being seen driving in a closed-up bushfire zone in Tonimbuk with suspected stolen goods in his car, a court heard.
Raymond Daryl Yarmouth, 30, was allegedly in a black Commodore seen at a rural property on Ernie Nash Road about 1.20pm on 2 July.
At the time, the road was open for 'local traffic only' due to the 2019 bushfires, Dandenong Magistrates' Court was told on 11 February.
Soon afterwards, the Commodore accelerated away from police on Tonimbuk Road, Tynong North.
Five kilometres down the road, Yarmouth was discovered with the car about 30 metres down a gully, off a sweeping bend, the court heard.
From the car, police seized suspected stolen goods – a Galaxy S10 phone still in its box and wrapping, a 4WD electric winch, a transmission radio and a light bar.
Yarmouth claimed he bought the goods.
Police were unsure if Yarmouth lost control of the car – which had a damaged front end – or if he was attempting to hide it in scrub, the court was told.
He refused demands to take detection tests for blood-alcohol or drug levels. This was because he didn't like the police officer, he later told police.
He confessed to smoking ice earlier – further confirmed by the powder residues and an ice pipe in his car.
In a police interview, Yarmouth said he evaded police because he was "dressed like this". He was also afraid that his car would be impounded due to him being unlicensed.
Yarmouth faced up to 24 charges during the hearing, including punching, stomping and kicking a man during a four-way affray at a service station car wash bay in Pakenham East.
He pleaded guilty to resisting police arrest on warrant in Officer, stalking and several charges of driving unlicensed and refusing drug-driving tests
During one of his unlicensed driving offences, he crashed an unregistered motorcycle into a kangaroo on Brown Road Officer in January 2019.
A woman on board was thrown from the bike, and suffered non-life threatening injuries, the court heard.
Other charges included failing to appear at court as well as breaching bail, a community corrections order and an intervention order.
Corrections Victoria reported that Yarmouth had been "unresponsive" to officers during his corrections order, the court heard.
Defence lawyer Siva Kandasamy told the court that things "weren't going well" for father-of-four Yarmouth over the past year.
He submitted for Yarmouth to receive another chance on a CCO to tackle his drug use – which was the cause for much of his offending.
If resolved, "there's a good chance that he could be rehabilitated," Mr Kandasamy said.
The unemployed Yarmouth had recently received a TAC payout for a motor-vehicle crash six years ago, and was seeking a disability pension, the court heard.
Police indicated they would seek the forfeiture of the black Commodore – which was owned by Yarmouth's father.
Magistrate Costa Kilias said Yarmouth had been "very busy in a very anti-social way".
Yarmouth was jailed for 120 days, including 51 days in pre-sentence custody.
He was ordered to effectively re-start his CCO, including supervision and 100 hours of unpaid work and treatment.
He was also disqualified from driving for four years, and fined $800.