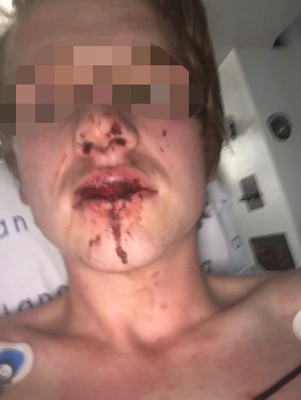 By Mitchell Clarke
A 20-year-old Pakenham man has been left bloodied and bruised after he was beaten in a savage daylight attack.
Lachlan Brown was allegedly assaulted by a group of men, believed to be of African appearance, at about 3pm on 2 January outside Pakenham station.
A Victoria Police spokesman confirmed the victim was approached by three men who asked for a cigarette.
Feeling uneasy, the victim is believed to have run away but was chased by the thugs who demanded cigarettes and a mobile phone.
Mr Brown was then assaulted, with the alleged offenders ripping his shirt before stealing his phone, wallet and a bag.
He was left with a swollen nose, fat lip, scratches to the face and bruises across his body.
Paramedics treated him at the scene before he was transported to Casey Hospital for further tests, worried about potential kidney damage. Thankfully, everything came back clear.
Lachlan's mother, Helen Brown, told the Gazette her son would recover physically but the ordeal would "scar him" mentally.
"They laid into him really, really aggressively," Ms Brown explained.
"He's not a fighter, he's not an out-there kid, and he keeps to himself in his small group of friends. This was completely unprovoked."
Ms Brown said her son, an apprentice cabinet maker, would struggle to continue to catch public transport and said he has lost "complete confidence".
"He's struggling, he really is struggling," she said.
"And it's not just Lachlan. People don't feel safe anymore and it's just not fair.
"These people need to be stopped from doing this to other people. They're just getting a slap on the wrist before being let back into the community."
Cardinia Criminal Investigation Unit (CIU) is continuing to investigate the circumstances surrounding the incident.
Anyone who witnessed the attack or has any further information is urged to contact the Pakenham police station.
"What I've gone through with Lachlan is every mother's nightmare," Ms Brown added.
"You just don't want anybody to go through this.
"Absolutely no one deserves to be beaten and kicked like Lachlan was."