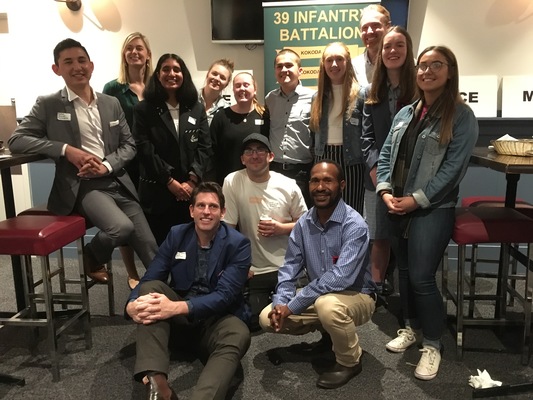 By Jessica Anstice
For the tenth year, the Harold Bould Memorial Award ceremony was held at the newly renovated Drake Tavern, formally the Pakenham Hotel, on Friday 6 December.
Pakenham Secondary College student Ayanna Mehta and Lakeside College student Holly-Jane Jamieson were the award recipients.
The competition is held annually and is available to all Year 10 students who reside and attend school within Cardinia.
The two award winners receive a fully funded escorted trip to walk the Kokoda Track in the June/July school holidays of the following year to honour the memories and sacrifices of all those who served in New Guinea during those dark days of 1942.
Harold Bould was killed in action and has no known grave. He was one of five brothers from Cardinia to serve in WWII and his brother Keith was also lost with no known grave after being taken prisoner in Singapore.
The anniversary celebration was organised by Alan Jameson, former president of the 39th
Battalion Association and winner of this year's Shrine of Remembrance Medal.
Eastern Victoria MP Edward O'Donohue attended the event and thanked the organisers of the Harold Bould Memorial Award and the ongoing support of Pakenham Racing Club, Pakenham and Kooweerup RSLs, Pakenham and Kooweerup/Lang Lang Rotary Clubs, Pakenham CWA and the many personal donors who contribute to ensuring the success of the award.
Both award recipients were congratulated by Kokoda Historical director of trekking David Howell.
Mr Howell was accompanied by his track leader Kila, a descendant of the very famous Fuzzy Wuzzy Angels, who is currently visiting Australia.
On the night, Alan Jameson also announced that as from 2020 the Bould-Young Awards is to be known as the Bould-Young Memorial Awards thereby recognising another of Cardinia's heroes.
Wilma Young AM (nee Oram) was an army nurse in Singapore escaping by boat to Banka Island when it was sunk by the Japanese and she became a POW for the next four years.
On her return to Australia she met another surviving POW, Alan Young, whom she married.
Wilma and Alan worked a dairy farm in Cardinia and had four children.
However, she never forgot her fellow veterans and joined Pakenham RSL serving for many years on the committee and was their first female president.
She fought for better recognition for Vietnam veterans and lobbied for a memorial in Canberra honouring her lost mates – the 92 nurses who paid the supreme sacrifice.
The memorial was opened in 1999.
Her son, former Cr David Young, attended the 10th Anniversary Celebration and thanked the 39th Battalion Association for its work in continuing to remember and honour past veterans.
He said the family were very grateful and proud to see their mother recognised in this way.
The evening was deemed a great success by all in attendance including many past recipients, organisers, sponsors and guests.