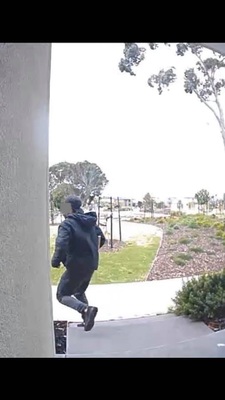 By Jessica Anstice
Thieves are roaming the streets in parts of Pakenham and Officer, taking extreme measures to get their hands on people's parcels in the lead up to Christmas.
Arcadia Estate resident Shayla Maher was furious when she was notified her Black Friday parcel had been delivered to her doorstep, only to find it had been stolen.
CCTV footage shows a man, wearing all black clothing and a cap, rush off with the package after it was delivered to the Eliot Avenue address on Monday 2 December, just after 11am.
"I am very surprised as I thought Officer was a good area but there are bad people everywhere," Shayla Maher said.
"My message to the person who stole it is: I hope you're happy taking other people's belongings that they work hard for."
With Christmas on the approach, residents are growingly concerned about the safe arrival of parcels.
"We're expecting three parcels this week with many more in the lead up to Christmas," an Arcadia Estate resident, who wishes to remain anonymous, said.
"Officer is a great place for communities so it's unfortunate that opportunistic people will take these measures to steal from others."
The calculated thieves are pinching parcels from doorsteps, prompting Australia Post to urge customers to take steps to protect their goods, especially during the festive season.
"Australia Post is gearing up for its biggest Christmas ever and expects to exceed last year's peak volume of 40 million parcels, and we recommend customers consider the delivery options available to them," an Australia Post spokesperson said.
"For high-value items, customers can use our registered post or signature-on-delivery services.
"Alternatively, customers can open a free MyPost account, which will allow them to choose to have their parcels redirected in-transit, text their delivery preference, and have items sent to a local post office or one of over 330 24/7 parcel lockers."