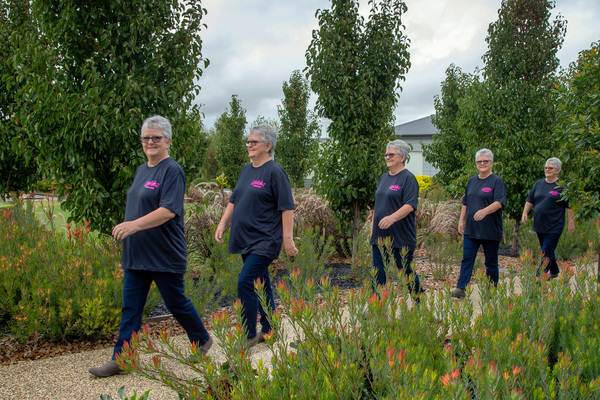 By Danielle Kutchel
Kay Taylor never thought she'd be diagnosed with breast cancer.
After a scare picked up by a mammogram in 2017, she went for another check the following year and got the call to come back in. She recalls watching some ladies come out of a consulting room with a box of tissues and some pink books, and turning to her husband to say "I hope I don't get a pink book!"
When her turn came, the doctor entered the room – with a box of tissues and some pink books.
"It was a complete and utter shock. Immediately, you think, 'oh my gosh, what's going to happen now?'" Ms Taylor recalls.
She fought her stage two breast cancer and after surgery in late December, was given the all clear on New Year's Eve.
"It was the toughest time, those days that I had to wait until I got the all clear."
However, she says the journey doesn't stop there.
"I'm now on a tablet that I have to take for the next five years which is causing havoc. It still goes on, you never get off. Even though you're so-called 'cancer free', you've still got to attend appointments and do all of the tests. It doesn't end; it's just not as intensive."
The survivor is now on a mission to spread awareness of breast cancer in the community, so that other women don't have to go through the pain and uncertainty.
Ms Taylor will be walking in the Women in Super Mother's Day Classic event this Sunday at Alexandra Gardens, as part of Lifestyle Communities' team which so far numbers in the hundreds. Lifestyle Communities says it will be the largest group ever to have walked the Mother's Day Classic 'as one'.
The Lifestyle Officer resident will be walking with her family, and said she is anticipating it will be "a stroll in the park with good friends."
"We're all there for the same reason: to bring awareness to breast cancer. I wish that every woman could have mammograms every 12 months, regardless of their age, at no cost, because it can affect every girl at any age," Ms Taylor says.
And when she crosses the finish line, Ms Taylor knows what she will be thinking about.
"Just all the women who have had it, survived it, died from it. It's not just a disease that hits older women; it can attack anybody at any age, male or female."
With statistics showing 48 women are diagnosed with breast cancer each day, Ms Taylor hopes her walk will spread the message about the potentially fatal disease.
"Be very vigilant, and if you feel something go to the doctor straight away because prevention is the best thing, better than the cure. Don't be naïve about it; I was a little, I thought it would never happen to me. But then again, bang! It did."