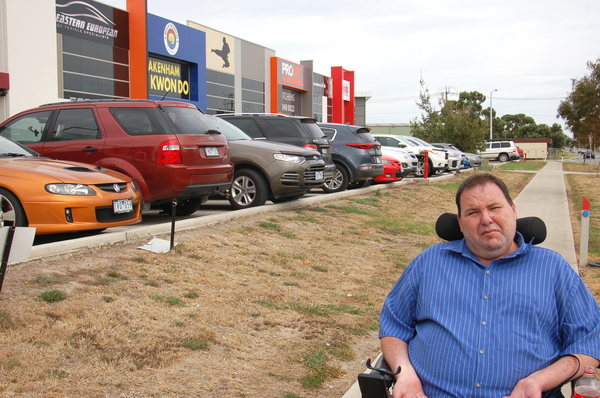 By Bonny Burrows
A lack of footpaths and public transport has left Pakenham's Bald Hill Road inaccessible to people with a disability, a local father argues.
John Copeland, who himself is wheelchair bound, highlighted the challenges posed by people with a disability at Cardinia Shire Council's 19 February meeting, telling councillors that despite its goal to become an inclusive community, areas such as Bald Hill Road were quite the opposite.
Mr Copeland said the lack of footpaths left people with a disability and parents with prams unable to access the industrial estate's family entertainment and employment services.
Not everyone had a second car, he said.
"It has been impossible to walk to any of the children play centres in Pakenham as there is no connecting footpath for approximately 200 metres along Bald Hill Road between the Racecourse Road roundabout and the factory complex at 100 Bald Hill Road," Mr Copeland said.
Demonstrating an understanding that developers were required to construct footpaths as part of building plans, Mr Copeland questioned what the council's requirements were for existing developments.
"The area's already developed. Does that mean we're never going to get the footpaths connected?" Mr Copeland said.
"If so where does that leave people who can't drive, who can't walk? There's no bus service up Bald Hill Road. Does that then make the whole inclusion thing a real joke?"
Cardinia Shire Council general manager of assets and services Michael Ellis said trying to get adequate pedestrian links not only in the centre of town but on the outskirts was "always somewhat of a challenge".
"And I guess it is more challenging due to the nature of development of Bald Hill Road as it is industrial development," Mr Ellis said.
"We have on our rating system a priority of about eight or nine for a link through there- so that's quite high in terms of connectivity and understanding the need for a footpath.
"The issue is there are a number of establishments already in place. We can target where new developments occur but it's those missing links in between."
The general manager said council tried to address through a special charge scheme, but that proved challenging.
"Once again it's trying to get those linkages through," Mr Ellis said.
He acknowledged Mr Copeland's situation highlighted "a need for us to advocate for better public transport links".