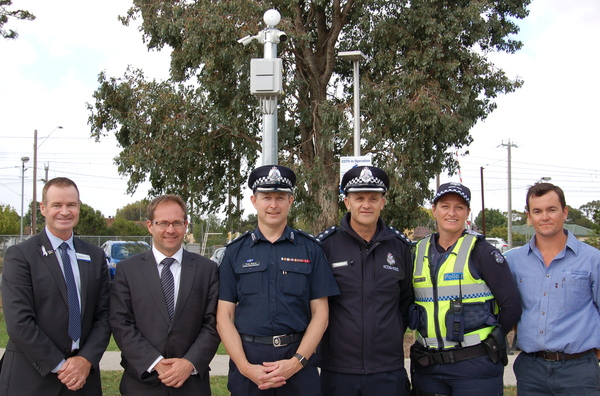 By Bonny Burrows
Blanket coverage surveillance across Pakenham crime hotspot Bourke Park is already showing results, leading to Victoria Police's Acting Superintendent to call for a network of community CCTV monitoring.
The new 11 high-definition CCTV cameras were installed in November last year after years of lobbying by community members and police who were fed up with the "high degree of anti-social and criminal behaviour" such as drug and alcohol use, vandalism and assault occurring at the site and the nearby Pakenham train station.
Now, with CCTV footage streaming direct to Pakenham Police Station for passive monitoring, offenders are being caught, and police and the council couldn't be happier.
"This project is about making the community safe and it is," Victoria Police Acting Superintendent Tom Nairn said.
Acting Superintendent Nairn said just recently, four people displaying antisocial and unproductive behaviours at the park had been identified and investigated by police.
This wouldn't have been possible without the $1650,000 government and council funded security upgrade, he said.
"Ultimately we would like to see a network of community CCTV," Acting Superintendent Nairn said.
"We see this as the start of something rather than the finish."
Cardinia Shire Mayor Collin Ross it was council's top priority to make residents feel safe in their communities.
"Cardinia Shire Council has a long-standing commitment to community safety and crime prevention," councillor Ross said.
He said over the past three years the council had made a number of infrastructure and activation improvements at park for the purpose of improving safety and the perception of safety at the park.
This work has included the completion of a "rejuvenation project" featuring infrastructure and safety improvements including the installation of two playgrounds, barbecues, picnic settings and improved lighting.
However, he said November's installation of the cameras, with their strategic placing and quality footage, had really upped the public's perception of safety while assisting police in deterring and convicting crime.
"Bourke Park has been transformed from an area where people felt unsafe to a more active and attractive public open safe for the whole community to enjoy," Cr Ross said.
"And that's why this project is one I'm very proud to see launched."
Member for Eastern Victoria Daniel Mulino said the cameras were "another major step forward to creating a safer, more family-friendly place".