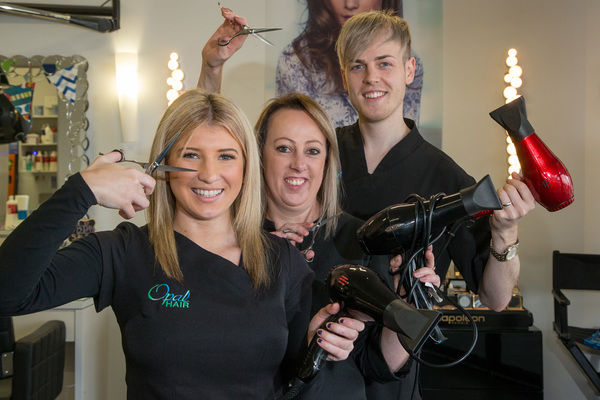 By Helena Adeloju
With a new program set to be rolled out next month, local hairdressers will be among the newest recruits in the fight to end family violence.
According to the lead family violence service in Melbourne's eastern region, the relationship that hairdressers have with the women they serve can be a valuable tool in identifying, addressing and preventing family violence.
Eastern Domestic Violence Services (EDVOS) has developed early intervention training for hairdressers to help women who may be facing violence or controlling behaviour at home.
EDVOS executive director Jenny Jackson said the interest in the training program which will be the first of its kind in Australia has been incredible.
"We are very excited by the level of interest in the program that will be rolled out from July," Ms Jackson said.
Owner of Opal Hair in Officer, Prue Hendrix recently became aware of the new EDVOS HaiR Program and is keen for her salon to be involved.
"Hairdressing is not just a job, it is an emotion and our greatest reward is our clients' happiness," Ms Hendrix said.
"EDVOS are being positive and proactive with the HaiR Program initiative."
Earlier this month Victoria's Minister for Women and Minister for Prevention of Family Violence, Fiona Richardson, announced funding of $135,000 for EDVOS to deliver the program for one year.
The program is designed to give hairdressers the capacity and confidence to recognise, respond and refer clients.
"The HaiR Program helps hairdressers to engage in conversations that challenge gender stereotypes. They can share experiences and recognise the sometimes subtle signs of family violence," Ms Jackson said.
She said the three-hour training program involved talking to hairdresser about what family violence is, what to look for, and explaining to them what their role involved.
"When we ran a pilot program late last year hairdressers told us they felt more comfortable knowing what to say and how to say it," Ms Jackson said.
"We're very clear about the role; it's not to be a family violence counsellor, or a family violence worker."
Ms Jackson said some of the signs that a woman may be experiencing family violence include women saying they are not allowed to have certain cuts or colours, numerous call or texts within an appointment checking where the woman is, or women insisting on making split cash and card payments so a partner doesn't know how much money was spent.
Although physical bruises may be the most obvious tell-tale sign of abuse Ms Jackson said not all forms of family violence were physical.
"It's also about power and control," Ms Jackson said.
"Abuse can be financial, sexual, psychological, emotional or spiritual."
She said the new program will help address the key problem that women who experience family violence expect not to be believed.
"Men who are family violence offenders are often very charming and are not violent in other areas of their lives," Ms Jackson said.
"Hairdressers will be able to offer their clients the belief and empathy they need to take action since they are a safe enough distance to be their confidant."
Ms Jackson said family violence is not by any means a women only issue and the HaiR training program will also enable hairdressers to assist men.
"It will help men in the same way," she said.
Ms Jackson said the program was aimed at women because statistics showed women were the victims of family violence more often.
"At least one woman is killed every week due to family violence," Ms Jackson said.
Together We Can Partnerships and Engagement Facilitator Fiona Cost described the initiative "as a terrific program for hairdressers".
She said similar programs were needed to enable the wider community to recognise family violence and to equip people to refer persons using violence or who were the victims of violent behaviour to local organisations that can help.
"I think there are also opportunities for real estate property managers, chemists, doctors and other health care professionals," she said.
Emergency contacts for those experiencing Family Violence:
Victoria Police triple-zero (000)
1800 RESPECT 24/7 – 1800 737 732
Safe Steps Crisis Service 24/7 – 03 9928 9600