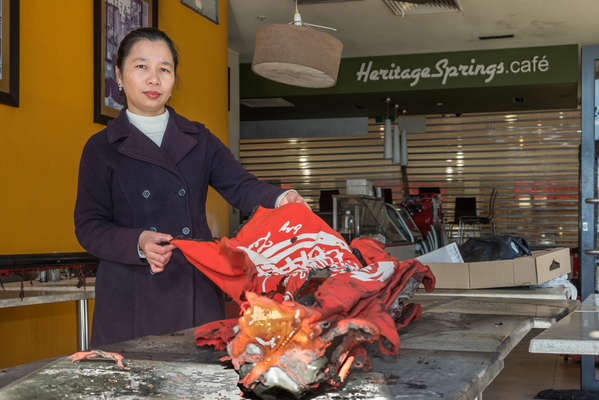 By Helena Adeloju
Thida Lim has been overwhelmed by the community support she has been shown in the days following the fire-bomb attack on her cafe at Heritage Springs Shopping Centre.
"Two hundred mums from the Heritage Spring Primary school came here yesterday to comfort me," she said.
"There were lots of cuddles and hugs. I was so overwhelmed with emotion that I cried."
Thida and her husband Kim moved to Heritage Springs almost four years ago when they bought the Heritage Springs Cafe, and since then they have become much-loved members of the community.
Now, with the cafe out of action until repairs are complete, Ms Lim is worried about how she is going to pay bills and put food on the table.
"I'll have to look for a job to cover our everyday expenses," Ms Lim said.
"Our insurance is only going to cover contents, but they won't be covering lost income or the rent."
Ms Lim is still struggling to comprehend why her business was targeted.
"Why would people do something like this?" she said.
Police are continuing their investigations into the fire, which has left the cafe's interior charred and windows shattered.
Three men were captured on the CCTV vision from the Chemist Warehouse opposite, entering the premises.
Once inside they are believed to have sprayed accelerant throughout the shop, and set it alight just before 2.30am on Sunday 11 June.
When Ms Lim arrived to open at about 7.15am she found her premises cordoned off by police who told her the shopping centre would not open until further notice.
She said nothing prepared her for what she saw when the police arson squad gave the all-clear about 1pm and allowed her inside.
"I was shocked and completely devastated," Ms Lim said.
"It was clear the people who did this were looking for money.
She said every drawer was open and the tips jar was gone.
Heritage Springs Centre Management issued a statement on Tuesday 13 June thanking emergency services for the "fast response and professional service."
"The incident comes as a deep shock," the statement read.
"We would like to assure the community that the Shopping Centre, excluding Heritage Springs Cafe, is business as usual."
Ms Lim said the assessment for restoration work began soon after the incident, with repairs scheduled to begin immediately.
In the meantime Ms Lim is in the process of organising a coffee cart so she can at provide customers with coffee at the Shopping Centre during the cafe's temporary absence.
"Hopefully we will be serving coffee in the next few days, but we will really need the community's support when we re-open," she said.
The Pakenham and Nar Nar Goon CFA crews attended to fight the initial fire and helped to clean up the area in the aftermath.
Police have advised people to go about their usual business at the Heritage Springs Shopping Centre, saying they are carrying out "reassurance patrols" in the area.
Investigators believe a dark coloured sedan, possibly a Ford Falcon, may have been involved.
Anyone with information is urged to contact Crime Stoppers on 1800 333 000.