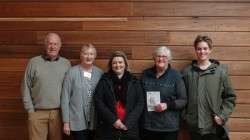 CARDINIA U3A invited people to discover their inner student during and open day on Saturday.
Visitors were introduced to classes such as china painting, art and crafts, history, yoga, sewing and crochet.
Among those who dropped by were mayor Jodie Owens and councillors Kate Lempriere, George Blenkhorn, David
Young and Colin Ross.
President Janet Hodge said she and her committee were pleased with Saturday's attendance and hoped to welcome new members.
U3A Cardinia is open Monday to Friday 9.30am to 3.30pm at the Pakenham Library complex on the corner of John and Henry streets, Pakenham.
For more information, phone 5941 4164.