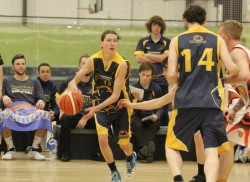 By RUSSELL BENNETT
THE Pakenham Warriors' Youth League Men's Division 2 side bounced back from a sluggish start to its clash with the Mildura Heat at Cardinia Life on Saturday night, ultimately dismantling the severely undermanned visitors by 34 in the Big V basketball clash 81-47.
Despite only having six available players in uniform for the game, the Heat trailed by just a point at quarter-time.
Jay Madigan showed plenty early for the visitors, while it was the Warriors who seemed to lack any real spark outside of three impressive dunks from big man Lewis Newman.
Coach Simo Pajdic delivered an almighty rev-up to his Warriors early in the second, and it had the desired effect – jolting them to life in an emphatic close to the opening half.
Pakenham led 41-19 at half-time and refused to let the foot off the pedal in the final two quarters.
Newman led the way for the home side with 14 points and 8 boards, while the Jenkinson boys – Aidan and Dylan – also impressed.
Jeff Reid's Division 2 men returned from their northern swing to Albury empty-handed, despite a fast start against the North East Bushrangers on Saturday afternoon.
The Warriors opened with a 26-19 lead at the end of the first quarter – courtesy of an impressive 53 per cent shooting from the field.
They maintained a six-point advantage, 48-42, at the half and doubled that by the end of the third, but faded badly in the last – outscored 32-17 – to ultimately lose by three, 94-91.
The Bushrangers shot a staggering 76 per cent from the field in the last, missing just four shots for the entire quarter, while in stark contrast the Warriors drained just seven of their final quarter attempts.
Lloyd Wright was the chief destroyer for the North East, finishing with 28 points on 10 of 14 shooting including a lethal five of six from beyond the arc.
Dylan Webb was equally as damaging – finishing with a 22-point, 11-rebound double-double on 53 per cent from the field.
Pakenham, meanwhile, was led by Ben Gaze's 24 points on 59 per cent shooting, 18 points from guard Josh Smith and 6 points and 14 boards from import big man Kenneth Hall.
With the result, Pakenham sits in fourth place on the ladder but tied for Coburg in third with 11 wins and five losses from their first 16 games. Mornington is just one win ahead in second.
Earlier in the day on Saturday, the North East comprehensively had the better of the Warriors' Big V women's side – to the tune of 41 points, 74-33.
Darren Thomas' side hosts Blackburn from 7pm this Saturday at Cardinia Life, with Pajdic's boys hosting Melton in the earlier game from 5pm.
Reid's Division 2 men head to Mornington to take on the Breakers from 2pm on Sunday.