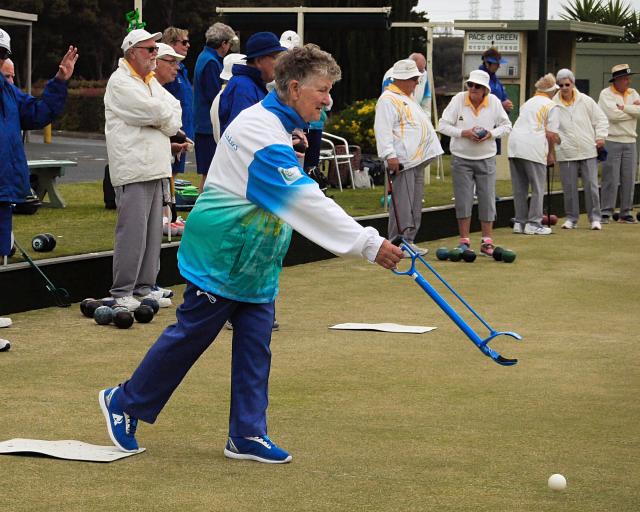 CARDINIA WATERS BOWLS
Midweek Pennant
Midweek games were played on Wednesday last week because of the Melbourne Cup public holiday.
The extra day was a crucial one for Cardinia Waters as the villagers had several late withdrawals from their players list due to illness.
Fortunately, a flurry of phone calls helped the club fill their two teams completely.
Both teams also scored wins, creating a big sigh of relief from the selectors.
Side one, bolstered by several side two players had a successful day at Berwick.
They won on two of the three rinks played and over-all by 14 shots.
This keeps them inside the top four, however they play Carrum away next Tuesday.
Carrum is just below Cardinia Waters on the ladder, so a close game is expected.
John Van Vugt skipped the best winning rink, getting up with a score of 24-10; he played with Del Dance and Michele and Gary Bondfield.
They were slow away but once in control they weren't headed.
Fill-in skip Bryan Stevens struggled with the warm day, but guided his rink to a close two-shot win.
He played with Dennis Patmore, Therese Mitchell and Cathy Swinkels.
They were well in control after lunch, but were rocked by their Berwick opponents scoring a six late in the game.
However, Bryan and his team hung on for their win.
Ray Naylor's rink was not in the hunt, down by six at lunch.
Afterwards they drew level and only succumbed by two shots.
Side two played at home against Narre Warren, and won this close encounter by just nine shots.
Stuart Tokely continued on his merry way winning as he has in all three games this season.
Despite having two fill-in players his rink was well in command.
However, a late six by their opponents woke up this group to finish well, closing off the last three ends for a final score of 23-15.
Stuart played with John Carr, Dennis Stephenson and Marion Stevens.
A nice aside to this game is that Stuart Tokely and John Carr are equal first on the players ladder after three rounds.
Jim Barrie also skipped a winning rink, getting home by three shots.
He played with Marie Stephenson, Paul Brindle and Lorraine Devine.
They were well down before lunch, but fought back before being headed, and saved the game with five shots up on the second last end.
Unlucky to lose were the rink of Steve Hale, Jenny Edmonds, Graeme Taylor and Dot Motton who lost by two shots.
Side two remain undefeated, and are a close second to Pakenham on the ladder.
Next week they play at home to the Dandenong Club, who are yet to win a game.
Saturday Pennant Report.
Cardinia Waters lowered their colours dramatically at Churchill Waverley Golf Club last Saturday.
Only one rink won on the day, with those honours going to Ray and Jill Naylor and Therese and Peter Mitchell.
They led most of the day, until the nineteenth end when their Churchill Waverley Golf opponents levelled the score at 17 all.
Ray's rink then won the last two ends for a final score of 20-17.
The Saturday side tumbled out of the four with this loss, but are still in touch as there are three sides with the same two wins from four games score-line.
Next week's game will be back at home, with Cardinia Waters playing Berwick who also lost this week.
These two teams are evenly matched, with the same points, and almost equal percentage.
-John Moore-