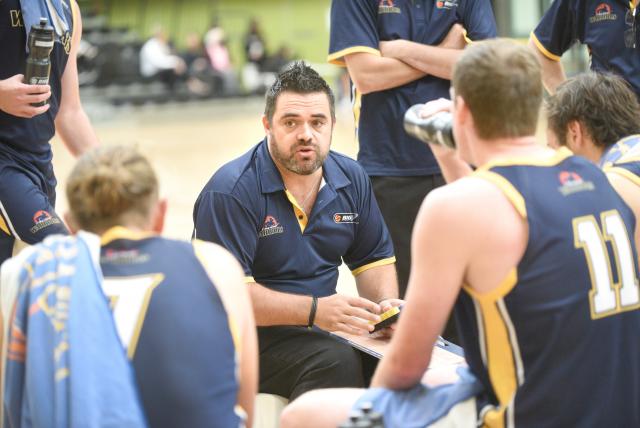 By David Nagel
Pakenham's Division Two Men's team continues to apply great pressure to the top-two teams in the competition after the Warriors scored a convincing 91-75 road victory against Mornington on Saturday night.
With only Sherbrooke and Gippsland United narrowly above it on the ladder, the Warriors fifth win on the trot sees them right in contention to take out this year's title.
The Warriors hit the road to face fourth-placed Wallan this week, before a home clash against sixth-placed Altona.
It's then all chips in for a massive away game against Sherbrooke on 23 July.
The Warriors just steadily chipped away at Mornington on the weekend, winning all four quarters by four, two, four and six respectively.
The Warriors were once again well-served by Canadian-import Joe Davis, who secured a 24-point, 10-rebound double-double to lead his side to victory.
Ned Weideman (19 points) also reconfirmed his importance to the Warriors line up, while 17 points and nine rebounds from Josh Dow provided the Warriors with some added backbone.
The Warriors now have an impressive 14-4 record to protect when they head to Wallan for an 8pm start on Saturday night.
The story is not so bright for the Warriors Championship Women's team, who fell to their seventh consecutive defeat at the hands of Bulleen.
There's not much positivity to report on a 90-44 scoreline, and particularly the second quarter where the Warriors were outscored 22 points to three.
Warriors coach Simo Pajdic and his assistants Lee Belton and Aaron Miles have plenty of work to do to try and make their team competitive for the remainder of the season.
Not one player could make their way into double-figure scoring for the Warriors, although the defensive rebounding of Tarryn Wilkin was outstanding.
Wilkin plucked 12 boards, with eight of those coming at Bulleen's end of the court.
The Warriors women head to Broadmeadows on Saturday night to take on fifth-placed Hume.
Pakenham's Youth League teams both continued their hot form of late with impressive victories on the weekend.
The Youth League One Women's team had a great time of things, thumping Sherbrooke 81-35 at home on Saturday night before hitting the road for a high-noon Sunday-shootout with Geelong.
The Warriors once again prevailed, 98-70, to sit third on the premiership table.
The Warriors had a poor middle section of the season where they lost six of seven games, but have now recovered with eight wins on the bounce.
Chloe Zielinski was unstoppable against Sherbrooke, pulling in 15 rebounds to go with 14 points, while Alahna Arnason, 10-points, 10-rebounds, also completed a double-double.
Zielinski (23 points, 10 rebounds), Arnason (20 points), Rhiannon Gallagher (23 points) and Ebony sans (16 points, 14 rebounds) then combined to trounce Geelong on Sunday.
The Youth League Women's team faces a massive test this Saturday, hosting top-of-the-table Frankston at 6pm.
And the Warriors Youth League Men's team continued its amazing season to date with an 83-65 win over Chelsea at Cardinia Life.
Pakenham has now won its last five games to sit on 13 wins and just two losses for the season, to sit comfortably on top of its Conference.
Michael Johns has been on fire of late, and added 27 points to his recent bounty, while Dylan Jenkinson chimed in with a 10-point, 11-rebound, double-double.
The Warriors will look to continue their roll when they host Westernport at 8pm on Saturday.